I thought I wouldn't be able make another post before New Year, but here is another one. A yummy Chicken Biriyani. You can try it for the New Year if you really trust me! Once again, wishing you all a wonderful and prosperous New Year.
I have been getting lot of requests from my readers for Malabar Chicken Biriyani and here is the long waited recipe. Malabar Biriyani is known all over for its heavenly rich taste and its flavourful rice! Among them the most famous ones are the Thalassery Biriyani and Kozhikkodan (Calicut) Biriyani. Well, Even though Thalassery belongs to Kannur, the biriyani preparation is slightly different than Kannur Biriyani, but it can't be beaten in taste and aroma, I bet. This time when I went to India I had Biriyani from different places of Kannur and they tasted almost similar and the method I noticed was also quite similar. The only difference would have been the addition of curd-some adds it and some doesn't and the same with lime juice for masala. After all, they are used to bring in the sourness to the masala, and you can always increase the tomatoes instead. In my recipe, I always add lime and rarely use curd. The recipe I have given here is with the exception of curd. And For rice, some fries it and some don't. If you notice, we don't add pungent spices like chilli powder, Dhanya powder and turmeric powder. The main flavour comes from the ginger, garlic, chillies, tomatoes and onion. To add extra flavour, we finish it up with garam masala. The biriyani usually made is quite rich, lot of ghee is added and it is quite heavy. Here, I have used minimal amount of ghee as possible, so one can have it without much guilt. Well, you may add more ghee or oil if you wish. The recipe serves around 6 - 8 People with condiments side and it is just over a tablespoon of fat per person. How good is that!
For an authentic Malabar Biriyani, the rice that is normally used is known as 'Jeerakashaala' rice which has its own unique flavour and texture. The size of the rice is quite small, probably just half the length of the normal Basmati rice. Since we don't get Jeerakashaala rice here, we always substitute it with Basmati rice. Well, I have never cooked with jeerakashaala rice. I was told by my mom that we don't soak jeerakashaala rice since the biriyani gets mushy when soaked. So if using jeerakashaala rice for this recipe, please follow the ingredients as such, but do not soak the rice.
Malabar biriyanis are always garnished with fried onions, raisins and cashews. It is served along with Raita, a cucumber and yogurt based condiment, else tomato and onion in yogurt, a pickle, vinegary onions and pappadams. Chicken biriyani or mutton biriyani with the above said side dishes and chicken fries is the speciality of the Muslim weddings back in Malabar. It is always served after the starter 'Alisa', which is a porridge like stuff mainly made of wheat and meat and is served by sprinkling sugar on top! Yum..
Here is the recipe of Muslim style Malabar Chicken Biriyani.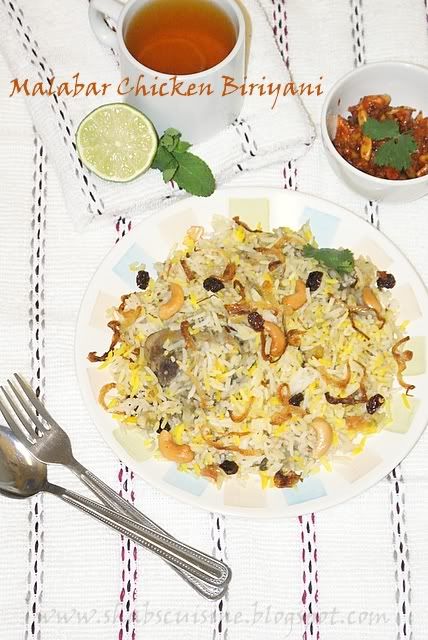 Malabar Chicken Biriyani ( Serves 6-8)
For Ghee rice:
4 cups (800 g) Basmati rice
6 cups water
¾ cup onion sliced (1 medium size onion)
¾ - 1 Tbsp cumin seeds
7 cardamom pods
8 cloves
2 1" size pieces of cinnamon sticks
1 bay leaves
9 Tbsp clarified butter (Ghee), (I used 7 Tbs vegetable oil and 2 Tbs ghee)
1 Tbsp salt
1 Tbsp lime juice
1 twig curry leaves
For Biryani masala:

1 kg of large chicken pieces, preferably thighs, legs and breast
500g (4 ½ cups, 4-5 medium onions) thinly sliced onion
15 large cloves(4 packed Tbs) freshly minced garlic
65g (2 ½" thick piece) freshly minced ginger
330g (2 cups packed, 4 large) chopped tomatoes
20 (5 tsp) minced Green chillies (reduce if you want it less hot), you may use just 12-15 of them
½ cup Chopped Coriander leaves
10-12 fresh mint leaves chopped
22 mls (1 ½ Tbsp) freshly squeezed lime juice
½ tsp garam masala + 1 tsp extra to sprinkle on rice while layering.
4 tsp Oil (you may add more if needed)
3 cardamoms
8 cloves
4 small pieces of cinnamon sticks (1" size, thin ones)
1 ½tsp - 1 ¾ tsp Salt
For garnishing:
2 handful cashews
2 handful raisins
2 medium onions sliced thin
Few drops of yellow or orange food colouring or both (opional)
Step by step guide to prepare Dum Biryani:

Method to prepare Biryani masala:

1. Wash chicken well, place it on a colander to drain off all water.
2. Heat a large vessel to medium low and add oil. When hot, throw in the whole spices. When they leave the aroma (takes upto a minute on low heat) sauté chopped ginger, garlic, chillies and onions along with salt until the onions become soft and translucent.
3. At this point, add chopped tomatoes. When the tomatoes start to soften ad breakdown almost completely, add chicken and cook until almost done. All this should be done on a low heat so that onion releases its juice and chicken gets cooked in that juice slowly.
6. Add lime juice, chopped coriander and mint leaves and cook the chicken until done. Add garam masala and close lid to infuse in the flavour.
Note:
If there is lot of liquid, boil it off and reduce to a thick masala. If there is lot of water, the rice may end up overcooked.
Method to prepare Ghee rice and Garnishing:
1. Wash rice several times until you g et clear water to drain. Soak the rice for half an hour.
2. For preparing the garnish, in a large non-stick vessel, add oil + ghee or only ghee as mentioned in the recipe and fry the cashews until golden. Remove them and drain on a kitchen towel. In the same oil fry the raisins until they puff up and keep them along with cashews. Fry the onion until just golden and keep them with the former. The onion will get coloured (will continue to cook even after you take them out, so don't fry until brown).
3. For preparing the ghee rice, In the same vessel, add ¾ cup slice onion and sauté till the onion turn soft and translucent. (don't brown them, that will effect the colour of the rice.). At this stage add cardamom, cloves, bay leaves, cinnamon and cumin seeds and sauté for a minute until it leaves the aroma.
4. Strain the rice and tip in the rice slowly and fry for 5 minutes on high heat by constant stirring.
5. Add boiling water, salt, curry leaves and lime juice and keep boiling, by keeping the lid open until all the water has disappeared, but the rice is still wet and not dry.
6. Reduce the flame to low, Cover tightly to let all the steam in and cook it until done. In between you can flip the rice two times to ensure even cooking.
If you follow the method of preparing therice you should get well fluffed individual rice that doesn't stick to each other.

For layering the biryani and final cooking:
1. Using a large plate, take out 2/3 rd of the rice from the vessel and transfer it to another bowl. Leave the rest 1/3 of the rice in the vessel and level off the surface neatly using a spatula. Sprinkle a good pinch of garam masala (from the garam masala that is reserved for sprinkling) all over. If you are adding colour, add few drops of yellow or orange food colouring in 4-5 places.
2. Take half of the masala and sprinkle over the rice along with the chicken.
3. Spoon 1/3 rd of the rice again over the chicken masala. Sprinkle a good pinch of garam masala, and few drops of colouring.
4. Add the rest half of the masala and complete the layering by spooning the last 1/3 of the rice. Sprinkle again with garam masala, and few drops of colouring.
So now you have alternating layers of rice and masala that's goes like this: Rice, Biryani masala, rice, Biryani masala and again rice.
5. Cover the entire vessel with foil (to ensure that full steam stays in), then close the lid tightly. Place a weight (you can also use any vessel filled with water for this) over this vessels and cook on hob top for about 30 minutes at very low heat. This is to infuse the flavour of the biryani masala into the rice and this process of cooking is called 'Dum'. To know if it is done, lift the lid and you should be able to see steam coming from the top part of rice. (Don't expect smoke, it will be just a light streak of steam from here and there) and the rice on the top will be slightly curvy!!
6. You can also do the layering in an ovenproof vessel and place it in a preheated oven at a very low temperature for about 20-30 minutes for the final cooking. I never tried this, but my friends do it this way.
Just before serving, garnish with fried onions, cashews and raisins.
Note:
1.You can also sprinkle little of the fried onions while layering and leave the rest for garnishing. You may sprinkle it along with garam masala. This helps to bring out the flavour of fried onions into the rice. And it is real good too.