A warm Eid wishes to all of my dear readers out there. This time it's one of my special posts, it being my 100th post! I have been waiting for sometime to hit the 'Century' and finally I did! Hurray!! I thought I would make this special post during Eid itself. If anyone out there doesn't know what Eid is, it is a day of celebration for Muslims that comes after a whole month of fasting. It is something like X'mas for Christians. We celebrate Eid by making special dishes and visiting the families and friends. If in Malabar region, right after the Eid Prayer, there would be a light snack and tea. Then the real spread is the lunch which would consist of mainly
Alisa
for starter,
Mutton biriyani
with chicken fries, salads and Raita for main dish and something for dessert - it can be anything from a single custard and fruits etc to the very elaborate Godambu payasam, sometimes known as Musaara varakiyathu or Chakkara Chhoru and kaaykkari. This is a time that I would be missing being with my family because my mom makes the best of the above mentioned payasams and biriyani. How much I would be missing those...Sigh! Whenever I go to visit her, this is the only payasam that I ask her to make it for me. Well, I haven't tried making it by myself after all. My fave being the Musaara varakiyathu/Chakkara Chhoru is made of ground wheat and coconut milk and cooked Channa dal sweetened with sugar or Jaggery. Kaaykkari is another wheat payasam made of whole wheat with coconut milk and chopped plantains are added to it for an extra bite. My god, I am already salivating. These are traditional payasam made in Malabar Muslim houses during festive occasions.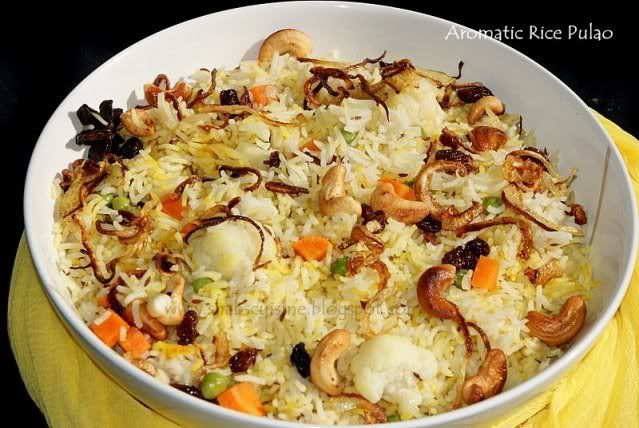 This time I am going to post a recipe for very flavourful rice as the name indicates. The recipe is adapted from the 'Gulf News' cookbook that my uncle brought for me long ago, as old as 12 years. The book has so many mouth watering dishes with stunning pictures in it. This particular rice has caught my attention ever since I saw it in that book. Especially during Ramadan when we don't eat anything during the day, any food or food picture no matter if it is appealing to the eyes or not, we will crave for them. And this is such a dish that I had craving for and made it. As the name sounds, it was really aromatic, perfectly cooked and tasted really fantastic. This is not the only Pulao that I make, but this is the easier one with less chopping of vegetables involved and lesser spices and masala. Unlike the biriyani, this tasted great on the first day rather than next day. Hope you will enjoy as much as we did.
The book also mentiones that the key to making superb rice pulao is to gather all the many ingredients together first. Therefore making it is very straight forward and always deliciously worthwhile. Enjoy your Eid!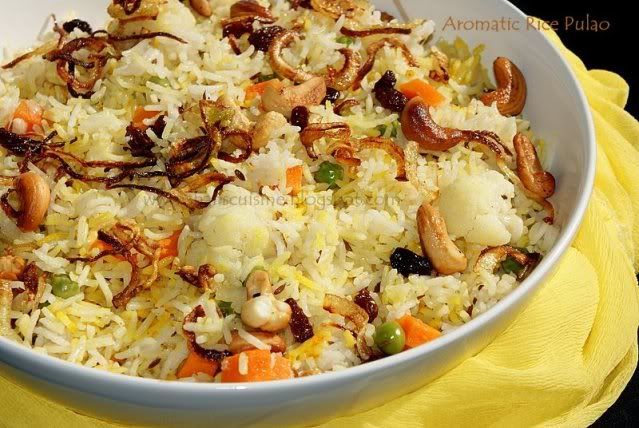 Recipe Courtesy: Gulf News Cookbook
Aromatic Rice Pulao/Pilaff/Pulav (Serves 4-6)
Ingredients:

2 ½ cups/500 g Basmati rice
3 ¾ cups chicken stock (I used 1 ½ magi chicken stock cubes and just a bit of salt)
4 Tbs vegetable oil
2 Tbs clarified butter/ghee
½ cup chopped onion (1/2 of a large onion)
1 cm / ½ inch ginger
Salt to taste
Spices:
1 bay leaf
2 star anise
5 cardamoms
4 small pieces of cinnamon sticks
7 cloves
1 – 1½ tsp cumin seeds
Few drops of yellow food colouring (I used ½ tsp turmeric powder in little water and sprinkled on top)
Vegetables:

100g /1 large/ Carrot cut into small cubes (1/2 cupful)
100 g/ 4 large florets Cauliflower, cut into medium size pieces
70g / ½ cup frozen green peas
For Garnish:
½ cup-1 cup sliced onion
¼ cup / 30g Dry nuts (Cashew, pistachio, almonds etc or a mix of all)
2 Tbs / 25g raisins
Preparation:

1. Wash the rice several times and soak for an hour to lengthen the grains during cooking.
2. Heat a large saucepan, add oil+ghee, fry the onions for garnishing until golden, drain and keep them aside. In the same oil, add cashew and fry until golden. Take them out too. Again, in the same oil add raisins and sauté just until it puffs up. Keep it along with nuts and onion.
3. In the same oil add all the spices and sauté just for few seconds if on high flame. Take care not to burn the spices, else the whole rice will go bitter. Add onion and ginger and sauté until the onion is soft.
4. Add the reserved rice and sauté for 2 minutes to cover the rice with the flavours of the pan.
5. Add the vegetables and sauté for further 2 minutes.
6. Mix the stock cubes in boiling water and add it to the pan. Stir for a couple of minutes and adjust salt if needed. Since the cube is quite salty, adding just a little salt would be enough.
7. When the water starts boiling, cover and cook on low flame for about 20 minutes or until the rice is well cooked. Stir once in between to allow uniform cooking.
Note:
You can use ghee completely instead of using oil, or u can just oil. Use the vegetables you have in hand like mushrooms, corns, beans etc...These are the only ones I had in hand! You can also use more nuts and dry fruits in the rice. I would definitely be adding more raisins because I like the little sweet taste in between the deliciously flavoured rice. The recipe also asks for adding 1 tsp saffron mixed in milk for colour and 2 tsp of rose water/kewra water. I dint add both, since I dint have saffron and I am not sure if I would like the taste of rose water in my Rice. But as the recipe indicates, it was really aromatic and yummy!