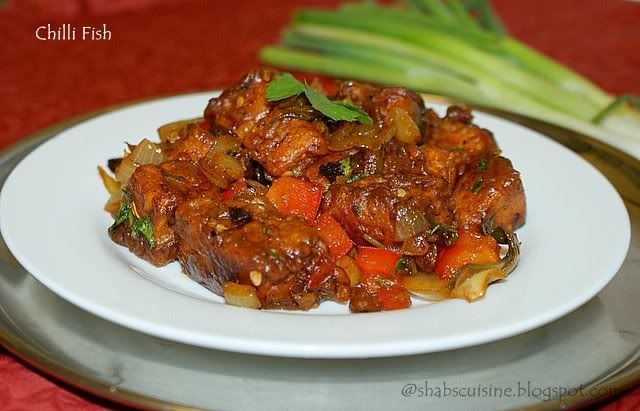 Chilli fish is one of my all time favourite food! I had it for the first time from the flight and fell in love with it on the spot. I desperately tried to re-create it few times at home and was a failure. It was then that I came across the chilli fish recipe posted by Varsha of Will-O'- the- wisp (
www.varshaspaceblog.blogspot.com
). Well, I just couldn't resist to try her recipe and that's it. My experiment has come to an end. To be frank, her recipe was better than the one I had from the flight and was so happy that I found it. Thanks to Varsha for posting such an amazing recipe. I followed her recipe as such and the outcome was just amazing. It had all the heat from the spices and green chillies and sauces and vinegar gave it a slight tang.
I have made this recipe twice ever since. I also tried the same with mushrooms. So, for the vegetarians, you may substitute mushrooms for the fish. They are really good, but personally, I loved the fish better. For some reason I am not a fan of the woody taste of mushrooms. I tried to like it, but I can't! I only tried the dry version of this recipe. But if you want a gravy, just mix the required amount of corn flour and water as mentioned in the recipe and add it to the dish at the end.
For a note, you may use different fish for this recipe. But make sure the fish is fresh and good especially when it comes to fish like 'King fish' (neymeen, Aykoora). They smell very odd when they are kept in the freezer for long time. You may use frozen salmon, haddock etc with no problem, but make sure you use fresh fish when it comes to king fish. I once prepared chilli fish using frozen king fish and the dish turned out to be 'Uneatable' because of the nasty smell it had!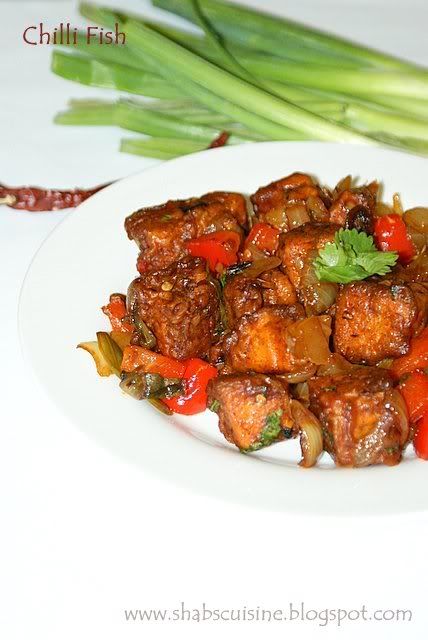 Chilli fish as a dry curry can be served as a starter, it is really yummy to munch. It can also be served as accompaniments for rotis, rice, chappathis, noodles etc when you have other curries around. If you are making the gravy version, it will blend well with Fried rice, chilli garlic fried rice, chappathis and even parattas. And you may omit or reduce the green chillies to reduce the heat. I just used 1 of them.
Ingredients:
260g Fillet of fish (salmon. Haddock etc)
To marinate:
2 tbsp Plain flour
2 tbsp corn flour
4 tbsp water
½ Tbsp pepper powder
½ tsp Kashmiri chilli powder/paprika
1 tsp minced ginger and garlic
A pinch of salt

Others:
Vegetable Oil to deep fry the fish
2-3 tsp sesame oil
2 whole Dried Kashmiri Red Chilli (Piriyan mulaku)
2 large cloves of garlic minced
1" ginger julienned (1 Tbsp)
1 ½ cups onion diced
1-5 green chillies split lengthwise (add more or reduce depending on your spice level)
½ of a capsicum diced
2-3 stalks of spring onion sliced thick
1 Tbsp hot Chilli sauce (I used Maggi)
¾ Tbsp Soy sauce
2 tsp tomato ketchup
1 tsp white vinegar
4 Tbsp water
2 tsp corn flour (Add only if making gravy)
1 cup water (Add only if making gravy)

Preparation:
1.Clean the fish thoroughly and drain on a kitchen towel. Cut them into small cubes, about an inch long. Make them as small as u can manage without breaking them.
2. Marinate the fish using the ingredients under 'To marinate' title.
3. Fill a frying pan with 2" height of oil and set the heat to medium. When the oil is hot enough, slowly add in the marinated fish pieces (fish pieces should be fully coated in the marinade) and fry till golden and crisp. You may shallow fry them as well with minimal oil. Drain on kitchen towel.
4. In another pan, heat sesame oil and add the crushed chilli flakes. Sauté for few seconds and throw in the minced garlic, ginger juliennes and diced onions. Cook for some time, sautéing occasionally, until the onion is transparent, slightly soft yet crisp.
5. Add bell pepper, spring onion and sauté for a minute. Add the sauces and 4 tbsp of water and mix well till blended.
6. Tip in the battered fish and slit green chillies and mix well until the fish is coated well with the sauces.
7. Add vinegar. Cover and cook on low heat for few minutes until all the flavour is infused and the sauce is all dried up. Chilli Fish prepared this way can be served as starters. If you are serving as gravy for Fried rice or rotis, mix corn flour with water and pour it in the chilli fish. Mix and cook for a while till gravy thicken.