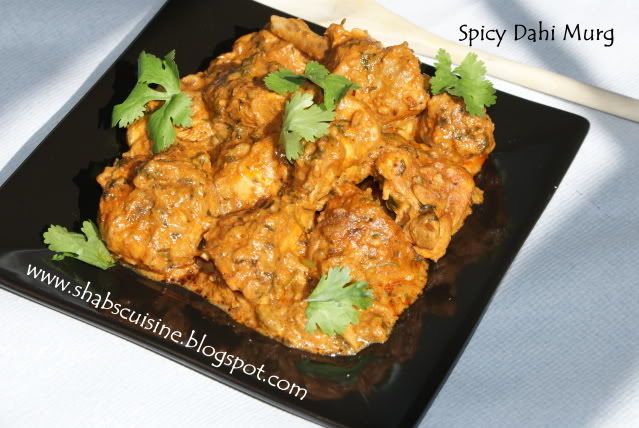 This particular curry dish was prepared by mom when we visited her last time in UAE. She served this curry along this curry with paratta and we loved it so so much that we stuffed ourselves like anything. When I asked her what was the name of the curry, she told me, there is no name as such. She just calls it 'Thairu itta chicken curry' (Chicken Curry in youghurt sauce). I asked her where she got the recipe from and she told me she just made it up by herself! I think this was her invention and dint know what to name it after all. So I myself named it Spicy Dahi Murg, hehe. I don't know if that name is apt for the curry after all....When I told my husband that I am going to name the dish dahi Murg, He just laughed and thought that name was funny....And headed for another suggestion to confuse me more.... He asked me " What's that green leaves you added in the curry?"...I told him it was coriander leaves.....He then came up with the name " Spicy coriander chicken" ..... I was not happy with that name so stuck with mine......ummmm.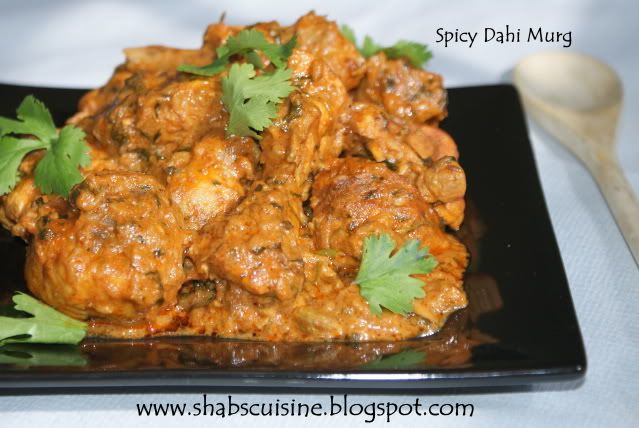 I had made this recipe with different proportions and every time I made it, it tasted different!! I think it was my temptation to add lots of onions that made so much of difference in the taste. I had almost given up trying this recipe since I wouldn't get the exact taste that I was looking for. The other day, it was ready made paratta for dinner and when thinking of what to make for curry, this 'Dahi murg' started dancing in my mind and the taste of my mom's curry just forced me to give it another try again. And hurray! Got it finally. I dono where I have been doing wrong, probably adding more water to make some gravy to suit my husband's taste, or adding lot of onions to make more thick sauce. This is almost a dry curry I would say or a curry with very thick sauce. Follow the ingredients closely and the outcome will be really good.
Ingredients:

800 g chicken cut into medium size pieces
For marinade:

3 tsp Kashmiri Chilli powder
4 tsp Coriander powder
6tbs (in 15ml tbs) Greek yogurt or any other thick curd
1 tbs lemon juice
1 tsp salt
Others:

1 medium size onion chopped thinly (150g,nearly 1 cup)
1" piece ginger,grated
7 large cloves of garlic,grated
3 tbs oil
1 tsp cumin seeds(jeerakam)
5 whole cardamom
5 cloves
2" piece of cinnamon stick
1/2 cup(loosely packed) chopped coriander leaves
1 medium size tomato (I once used 2 tsp of tomato puree when I ran out of tomatoes and it works fine.)
Preparation:
1. Mix all the ingredients for the marinade and apply it to the chicken.Mix well. Cover and leave it in the fridge for a minimum of 2 hours.
2. Heat a large saucepan and add oil. Add cumin seeds along with other whole spices. When the aroma comes,add in chopped onion,little salt, ginger and garlic and fry until the onion starts to turn golden in colour.
3. Add in the marinated chicken along with 4 tablespoons of water and mix well. Cover and cook in low flame until the chicken is almost cooked and the gravy is very thick.
4. Add in the chopped tomatoes and chopped coriander leaves and stir carefully. Cover and cook until done.
Pairs well with :
Neychor
,
Neypathal (Deep fried rice pancakes with onion, coconut and fennel)
, paratta, puri, chappathi etc.