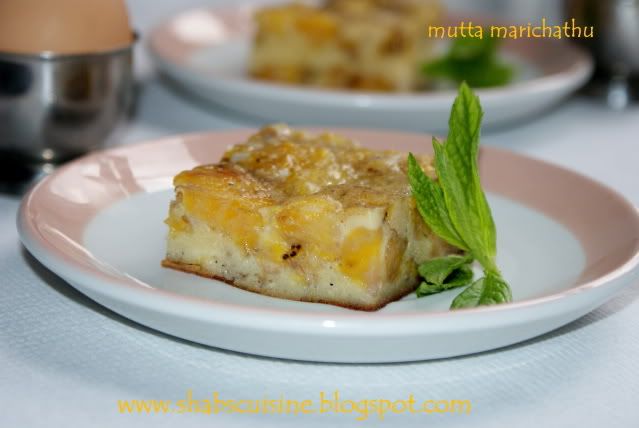 Hi all,
This is another snack best for making during Ramadan. I have already posted this recipe long back but with another name (Plantain sweet). Now I am re posting this by editing the old post with better pics and the original name and a slight different method. Sorry, I didn't know the original name before!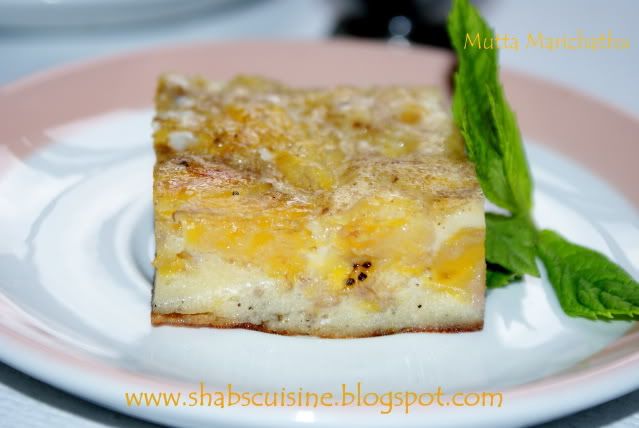 Mutta Marichathu was one among many dishes that I had back home. It is mainly made of plantains/nenthrappazham and eggs. My younger sister made for us (myself and hubby) when we went to my aunt's house and we absolutely loved it. Yeah, it was too good. Its is kind of a cake or pudding like stuff,very easy to make, takes very less time and tastes delicious and very moist. It's one of the best snack you could make for someone coming home with quick notice. It is also good for making during Ramadan. There are many other recipes that can be made with plantains and I guess such dishes are mostly made in Muslim houses in kannur and Thalassery.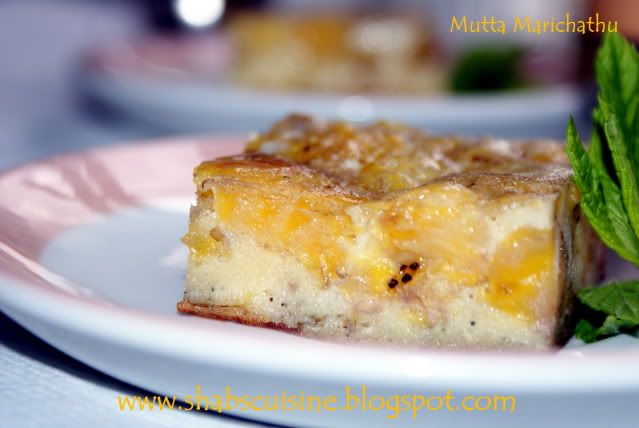 Ingredients
:
Ripe plantains - 2 no.s (540 g)
Extra large eggs - 5 large
Sugar - 12 tbs (or as per individual taste preference)
Cardamom powder - 3/4 tsp ; Cardamom - 4-5 crushed
Ghee - 1 tbsp (Can use more if preferred)
cashew nuts - 8 no.s crushed (optional)
raisins - 1 tbs (optional)
Preparation :
1.Cut the plantain into two halves(lengthwise) and again cut the halves into further halves (lengthwise). Slice the plantains into medium thin slices. Not too thin and not too thick.
2. Heat a saucepan,add ghee and plantains and saute on medium heat until the plantains get cooked and turn just golden in colour here and there.
3. Meanwhile in another dish, break eggs, add sugar and cardamom powder to it and beat lightly for a couple of minutes. (1 -2 minutes).
4. Add the cooked plantains in the egg and sugar mixture and stir well until uniformally distributed. Pour it back to the pan that was used to fry the plantains, COVER it and cook it over very low flame until the top part is set.Once the mutta marichathu is cooked, the egg on top will be hardened, It should take 10-20 minutes depending on the saucepan used.
5. Transfer this to a another plate and cut into small squares and serve hot or warm with tea.
6. Can be stored in fridge and stays up to 3-4 days. Warm it up and serve if refrigerated.
N.B:
If using nuts, just before frying plantains, add a tbs of ghee, saute the crushed cashews until golden and keep aside. In the same pan put raisins and saute until they all puff up. Remove at once and keep it along with nuts. Mix it with egg and plantains and pour to the saucepan and cook it until done.
2. You can use 4 Ex large eggs and 10 tbs of sugar, if you want to use less number of eggs; that is perfectly fine.