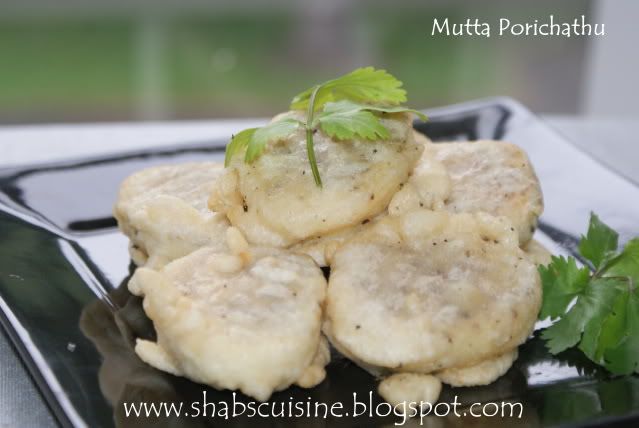 Mutta Porichathu is one of the most simplest of fritters. Like pazham porichathu (Plantain fritters) or dates porichathu (Dates fritters), Egg fritters are also made in the similar way . I normally make this during an evening tea or iftar. This is one of my hubby's favorite snacks and he was the one who showed me how to make it. And one of my readers - Zeb had asked me to post ramadan recipies here, so this one is for her. Even though simple, I didn't know this one until my hubby told me about it. I have few recipes in draft, but the problem is putting them up here, since typing and editing and adding pics and all takes lot of time. Will try to put them all as time allows:)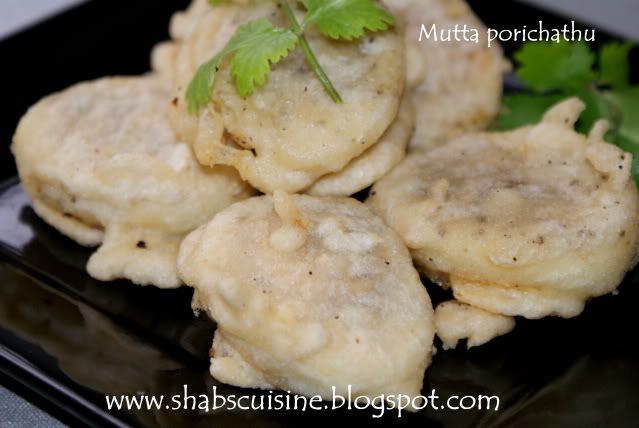 Ingredients:
6 medium size eggs, boiled and shelled
Seasoning for eggs:
Salt - As required.
pepper - As required
For batter:
1/3 cup plain flour (Maida)
2 tbs rice flour
a pinch of salt
water - as required
Oil - to deep fry the fritters

Preparation:
1. Cut the boiled eggs lengthwise. Sprinkle black pepper ans salt on the cut side.
2. Mix the flour with salt. Make a medium thick batter by adding enough water to flour.
3. Slowly lift the seasoned eggs with a spoon and drop it in the batter. Pour the batter with a spoon over the eggs until the eggs are covered in batter.
4. Heat a large Kadai and add enough oil to deep fry the fritters.
5. Slowly lift the fritters with spoon and fry it in the oil until golden and crisp. Drain the excess oil in kitchen towel.
You can fry thse in two batches. Turn a couple of times to make sure that all sides are cooked and golden.