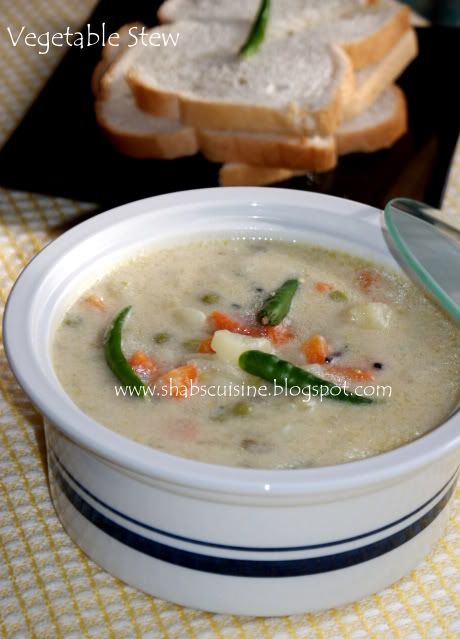 Vegetable Stew is one of the curries that I started making during my budding stage of cooking as it is one of the easiest curries anyone could make in no time. Whenever I make Appams, paalappam or vellayappam, this is the first curry that comes to my mind. It is so easy to make and tastes really good. The first time I made this curry, I had wondered how this curry could come out good when there is not even a single powdered spice in it! But I gave it a try because i have heard this is the best comination with Appams. And just to my surprise, it came out so well. It is the whole spices sautéed in oil that gives this curry the entire flavour. This is a very mild curry with no heat at all. So if you want to add some heat, add a couple of slit green chillies along with the spices.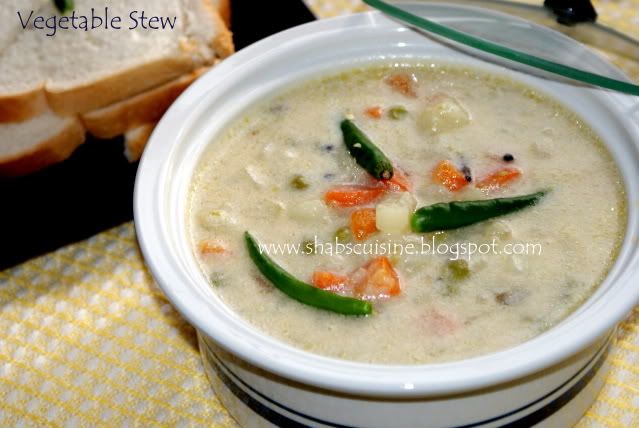 Vegetable stew:
Ingredients:
Vegetables:
4 medium size potatoes diced (2 ½ cups, ~500 g)
1 medium carrot dices (1/2 cup, 100 g)
1 onion sliced (1 ¼ cup, 175g)
½ cup frozen green peas (70 g)
Whole spices:
4 cardamoms
5 cloves
3 small pieces of cinnamon sticks
½- ¾ tsp pepper corns
Others:
2 cups thin coconut milk (500 ml)
¾ cup thick coconut milk
2-3 Tbs oil (vegetable or coconut)
salt- as required


Preparation:
1.Heat a saucepan, add oil and add the whole spices. When the aroma comes, add the chopped vegetables and sauté for 5 minutes stirring occasionally.
2. Add the thin coconut milk, cover and cook until the vegetables are well cooked, soft and start to breakdown. Add salt and adjust taste.
3. Add thick coconut milk and just boil once until all the flavours blen well.
This goes very well with appam. It can be had wth bread as well.


Recipe adpated from Lakshmi Nair.

Notes:
1. For the coconut milk, I normally use the maggi coconut milk powder. But I have also used fresh coconut, dessicated coconut to extract coconut milk. In this recipe, for thin milk, I have used 4 tbs of coconut milk powder for 500 mls of warm water. And 4 tbs of milk mixed with 3/4 cup of warm water to give 3/4 cup coconut milk. You may reduce or add more as required.
2. I always used the vegetables that I had in hand for this curry. I have used the combination of potatoes with cauliflower, potatoes and carrots and beans and even made just using potatoes. And everything tastes equally good. So throw in the vegetables u have in hand and prepare it.

Now comes The awards. This time I received 3 awards from my fellow bloggers. Thanks alot guys for the appreciation and the inspiration you give me.

1. Parita had passed me the 360 degree Foodie award. Thank you Parita. I am honoured.










2. vidhas has also passed me the following awards. Thank you so much Vidhas.















3. Aysha has given me the following Awards along with the 360 Degree award. Thank you so much aysha.






I Would like to pass the above awards to the following amazing bloggers: