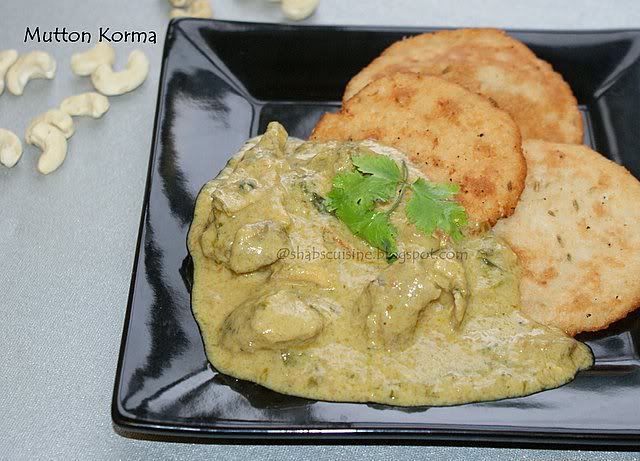 Mutton Korma/Kuruma is a rich and creamy curry and is delicately flavoured with spices. It pairs well with almost anything- Paratta, chappathi, naan, battura, poori, rice, neypathal etc etc..... Chicken Korma also can be prepared the same way, but you need not use the cooker for that.

Mutton Korma
Serves 3-4
Recipe Adapted from: Lakshmi nair's 'Magic Oven' PachakaVidhikal.

Ingredients:
500-600g mutton cubed
25g (30 pieces, 1/4 cup) cashews soaked in warm water for half hour
2 cups (260g, 2 medium size) onion, cut into cubes
5 large cloves of garlic
1 ½" thick piece ginger, chopped
1 Tbs couscous
1-1 1/2 tsp fennel seeds
4 cardamoms
4 cloves
2-3 small pieces of cinnamon sticks
1 tspful black pepper corns
1 Tbsp Coriander powder
½ tsp turmeric powder
2-6 green chillies slit lengthwise
½ cup (110g) tomatoes chopped
1 cup coconut milk
2-3 Tbsp vegetable Oil/coconut oil
Water- as necessary
Salt- as required
½ cup chopped Coriander leaves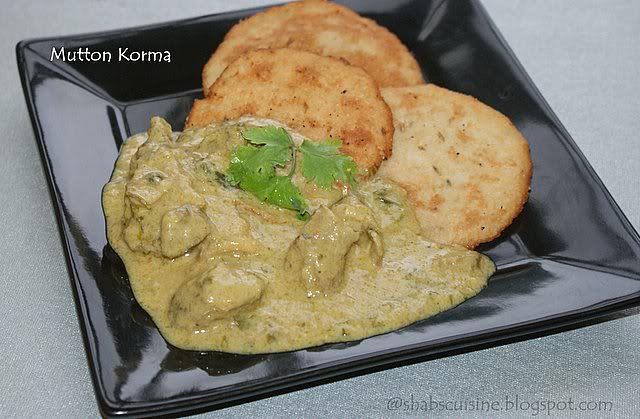 Preparation
:
1. Heat a pressure cooker. Add oil. When hot, add onion cubes, chopped ginger and garlic, couscous, fennel seeds, cardamoms, cloves, cinnamon sticks, coriander powder and turmeric powder and sauté for few minutes until the onions are soft. Add few tablespoons of water if it is sticking to the pan. Let it cool down a bit, then grind it to a smooth paste by adding ¼ cup of water.
2. Put the ground paste back to the cooker, add green chillies and tomatoes and stir well. Add the mutton pieces and salt and stir well again. Add half cup of water and pressure cook till mutton is soft and the gravy is thick. If there is more water than required, open the lid and boil until you get thick gravy.
3. Grind cashew nuts in ½ cup of water. Add this ground cashew and coconut milk to the gravy and boil for 3-4 minutes. If the gravy is watery, grind cashew in coconut milk itself and add it to the curry.
4. Add chopped coriander leaves and stir well.
Best served with Paratta, chappathi, naan, Neypathal (Recipe is given under Indian breads/malabar dishes) etc....