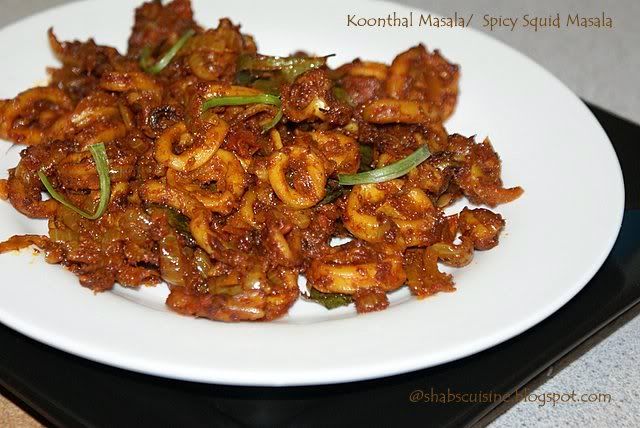 Masala Koonthal (Spicy squid Masala/Calamari Masala)
Serves 2-3
This is a spicy dry preparation of squid/ Calamari/ Kanava/ koonthal and is full of flavour. We sometimes call it as koonthal varattiyathu or Koonthal roast. Even though I have used the mild version of chilli powder here, I thought it was slightly spicier than my requirement; but my hubby thought they were deliciously spicy! I don't know if my spice tolerance level has gone down since I always prepare food adjusting the spice level so that, it could be eaten by my toddler as well. But my little one has been nibbling on these even though his eyes were wide and watering and he has been drinking lot of water after each intake! It was spicy for him, but when it comes to seafood, it looks as if nothing matters to him!!.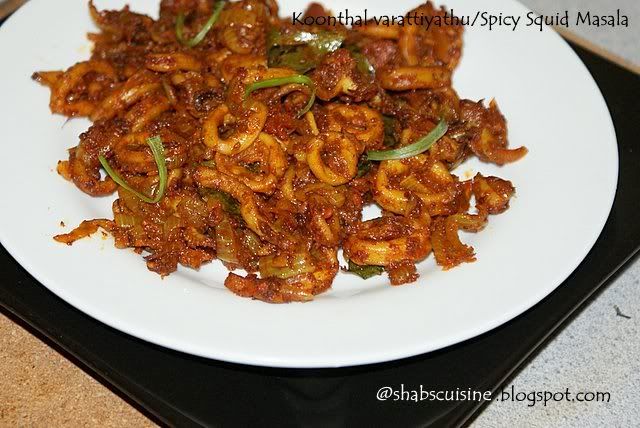 As I mentioned earlier, The recipe was slightly spicier for me. If you need it milder, reduce the chilli powder from the recipe. I always liked the lovely aroma and spiciness of green chillies...but these days the green chillies I get here are too hot that I feel the heat through-out my system. So I avoided adding green chillies to this one (But I would love to add a couple of them..). If at all you want to add green chillies and keep the dish mild, slit 2 green chillies, deseed them, and sauté along with onions. But make sure you reduce the chilli powder. It was a delicious side dish and I served it along with a vegetable curry and Chappathi.
Ingredients:
170 gms cleaned squid/Calamari/koonthal/Kanava (5 small ones about 3", head excluded)
For marinade:
½ Tsp paprika/Kashmiri Chilli powder
½ Tsp turmeric powder
A pinch of salt
Others:

coconut oil or other oil- as required
½ cup (packed) chopped onions, ½ of a large onion
1 large clove of garlic, chopped
A small piece of ginger, chopped
¼ cup (¾ of a medium size) tomato
½ Tsp paprika/Kashmiri Chilli powder
¼ tsp black pepper powder
6-8 curry leaves
A good pinch (1/4 tsp) of garam masala
Few teaspoons of water
Salt to taste
Preparation:

1.Cut the squid into rings of 3mm - 4 mm and marinate it with salt, chilli powder and turmeric for 10 minutes. Heat a frying pan and add 2-3 tsp of oil. Add the marinated squid and sauté for a couple of minutes just until the squid is opaque/hard. Fish them out.
2. In the same pan, add a couple of teaspoons more of oil and add chopped onion, salt, ginger and garlic. Keep sautéing until the onions are soft and start to take golden colour. Add chilli powder, pepper powder and saute for few seconds. If using high flame, add few teaspoons of water to avoid burning the spices.
3. Add in the chopped tomatoes and few teaspoons of water (if the dish is dry). Close the lid and cook on low flame until tomatoes have become soft.
4. Add the half cooked squid along with curry leaves and a couple of teaspoons of oil. Stir well. Close and cook in low flame until the squid is cooked thoroughly and is soft. Add a pinch of garam masala, stir well and close the lid and let the flavours to infuse.