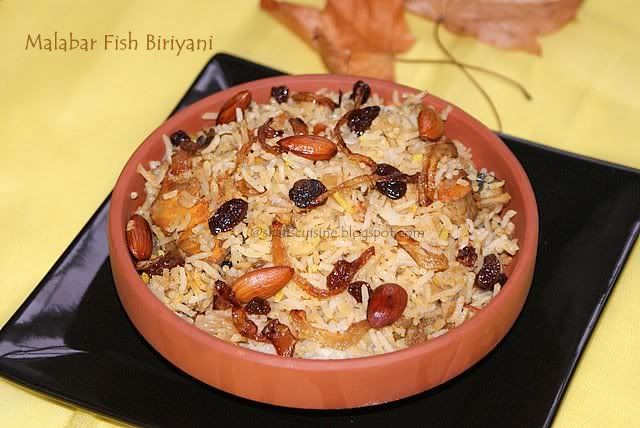 Hi pals,
I am flying to India this Friday for a short holiday of three weeks. I am quite excited about it because I really wanted a change and this would be a perfect one...But I just wish if my family were there too...Then it would have been the best holiday ever!!..This time my B'Day will be in India too. I don't remember being in India on my B'Day. So looking forward to it... Before leaving, I will share with you all one of my favourite recipes i.e. Malabar Fish biriyani. As I have told before I am a lover of prawn and fish biriyani and prepare them whenever I get a chance to. This is prepared in Malabar style with lots of sautéed onions, ginger, garlic and tomatoes with a touch of spice and spicy fried fish. The outcome is a slight tangy fish masala that pairs well with the ghee rice making a wonderfully aromatic and rich Fish Biriyani. The recipe is very similar to the Chemmeen Biriyani I posted before and tastes yum!



These days I am finding it quite difficult to blog, since my little one wants me full time with him. So I am fully engaged and no time to spare at all. We play a lot and do colouring, reading his animal books and rolling his tiny cars with him...Um, I am no so keen on doing colouring and playing with cars and all but I am forced to!!!......Today I just grabbed the 'Henna' or 'Mehendi' cone that was lying in the fridge since Eid and started applying it on his tiny hand...(Well, I dirtied up his hand)....he was quite patient with it and was curious and happy too....because I was drawing his favourite items like: ball, moon, 'caach'(cars), 'Faathaafy' (Butter-fly), 'shun' (sun) and 'tarsh' (stars).. Now I think he also dreams about dogs and cats because in sleep he sometimes says dog, cat etc....Well, he just started talking since one month and these are few of his vocabularies and the way he pronounce them. Then I applied henna on one of his little feet also. I applied it quite well, but dint have much luck with it....he rubbed his foot on the carpet and messed it up.....



Ingredients:
For Fish masala:
600 gm (4 Large pieces) King fish.

To marinate the Fish:
1 Tbsp Kashmiri Chilly powder
2 tsp Coriander powder
1/2 tsp turmeric powder
½ tsp lime juice
½ - ¾ tsp salt (Check and adjust)
10 tbs vegetable oil for frying fish and making masala.

For the gravy:
3 medium-large onions crushed in processor(3 cups, 500 gm)
2 1/2 medium size tomatoes chopped (1 1/3 cup, 300 gm)
12 cloves of garlic, crushed (3 tbs)
5 green Chillies, chopped fine (adjust to your taste)
4" piece ginger, crushed (60gm, 4 tbs)
1 tsp pepper powder
1 tbs lime juice
1/2 cup chopped coriander leaves (loosely packed)
6-8 mint leaves,chopped
2-4 Tbsp water (I added 4)
½ tsp fennel seed powder
1 tsp salt, or as reqd
1 tsp garam masala.

For the Ghee rice:
3 cups Basmati rice
4 1/2 cups boiling water
salt-as required - (I used 3/4 Tbs salt)
3 tbs Clarified butter/ghee
4 tbs vegetable oil
1 large onion sliced
2 Tbs raisins,washed
1 bay leaf
5 cardamom
7 cloves
4 small pieces of cinnamon sticks
1/2 Tbs cumin seeds
3/4 tsp extra garam masala to sprinkle while layering rice

For Garnishing:
4 Tbs Almonds blanced,peeled and roasted (I din't get time to blanch and peel, that's y u see the skin on) or cashew nuts
1 large onion sliced
2-3 Tbsp raisins
½ tsp turmeric powder + little water/ few strands of saffron soaked in water/little yellow or orange food colour.




Preparation:
First prepare the Fish masala:
1. Wash the fish, drain and marinate them in kashmiri Chilli powder, Coriander powder turmeric powder, lemon and salt for half an hour.

2. Heat a large non-stick saucepan to high, and add the oil. When hot, shallow fry the fish briefly on both sides, turning once or twice. Drain them in the kitchen towel.

3. In the same oil add the chopped onion, ginger, garlic and chillies along with salt and cook until the onions have become soft for about 10 - 15 minutes.

4. Add in the chopped tomatoes and pepper powder. Reduce the heat to medium and cover and cook until the tomatoes become soft and you get a thick gravy.

5. At this point of time, add the chopped mint leaves, chopped coriander leaves, garam masala, fennel powder and lime juice. Reduce the flame to low, stir well, cover and cook for another 4 -5 minutes.Add 2-4 Tbs of water and stir well.

6. You can break the fish into 2–3 pieces if they are really big (I did, since it is easy to manage). Add in the half fried fish and cook on very low flame for about 15-20 minutes so that the flavour of the fish diffuse in the gravy and the gravy is thick.

For preparing the Ghee Rice and the garnish:
1.Wash rice several times and soak the rice in normal tap water while you prepare the fish masala, for about ½ -1 hour.

2. Boil water in the kettle or a large cooking vessel.

3. Heat a large pan to high heat and add ghee and oil. Sauté the onions to be garnished until golden and take them out. In the same oil, sauté the cashews or peeled almonds until golden and keep them along with onions. In the same manner sauté raisins until it puffs up. Keep them with the fried onions and nuts.

4. For preparing the ghee rice, In the same oil, add onions and sauté until the onions turns soft. At this stage add cardamom, cloves, bay leaves, cinnamon, raisins and cumin seeds and sauté for a couple of minutes until the aroma of the spices starts coming out.

5. Reduce the heat to medium and add drained rice. Sauté for about 3-4 mnutes until the rice is well coated with the oil and the spices. Add the boiling water and salt to this. When the water starts bubbling, reduce the heat to low, cover the saucepan with a very tight lid to prevent the steam from escaping. If you don't have a tight lid, first cover the saucepan with few sheets of newspaper/foil and then cover tightly with a lid. It will hold all the steam in. Cook for about 20 minutes or until done. Cooking time may differ depending on the rice you use. In between you may toss the bottom part of rice and bring to top once or twice, so that the rice gets cooked evenly. Then do the layering.

For layering the biryani and final cooking:
1. Divide the rice in 3 parts and masala in two parts.

2. Take a large heavy based vessel and rub it with oil or ghee. Layer the bottom of the vessel with the first part of the rice. Sprinkle a 1/4 tsp of garam masala all over and scatter one half of fish masala over the rice. Tip in the second part of rice and sprinkle a good pinch of garam masala (1/4 tsp) all over again. Scatter the second half of fish masala over the rice and then tip in the third part of rice and sprinkle a good pinch of garam masala (1/4 tsp) all over again. Now you can sprinkle yellow or orange food colouring in streaks if you like to have few yellow grains. I used ½ tsp of turmeric powder mixed in little water. You may use saffron soaked in water as well.

3. Cover the entire vessel with foil (to ensure that full steam stays in), then close the lid tightly. Place a weight (you can also use any vessel filled with water for this) over this vessels and cook on hob top for about 20-30 minutes at very low heat. This is to infuse the flavour of the biryani masala into the rice and this process of cooking is called 'Dum'.

4. You can also do the layering in an ovenproof vessel and place it in a preheated oven at a very low temperature for about 20-30 minutes for the final cooking. I never tried this, but my friends do it this way.Just before serving, garnish with fried onions, cashews and raisins. Enjoy with Cucumber Raita, tomato and onion salad, thenga chammanthi, pickle and pappadams!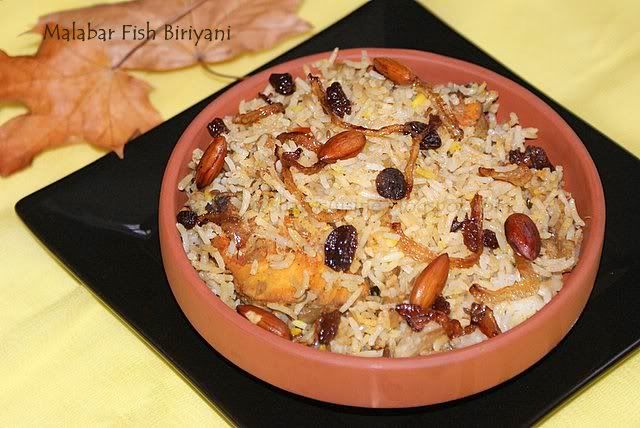 The sequence I followed:
1. I washed the rice and soaked it.
2. Started the masala preparation by peeling the onions, ginger and garlic. Chopped them all in processor to make the work easier. And prepared the masala. Kept them aside.
3. Prepared the garnish
4. Prepared the rice.
5. Did the layering.
6. Garnished while serving.
Check out other rice recipes here:
Chemmeen Biriyani
Aromatic Rice Pulao
Chilli Garlic Fried Rice
Fried Rice
Thalassery Mutton Dum Biryani
Ghee Rice (Neychor)

Awards and Meme:
My friend Saju has shared an award with me. Thanks you for sharing this award and the meme. I really enjoyed doing the meme.




This award goes with a fun meme which has to be passed on to 6 of your favourite blogs and which has to be answered with only one word (Oops, I saw this rule after writing the meme....Damn..I don't have time to re-write..Sorry....).

Here is the meme part:

1. Where is your cell phone: Next to me..
2. Your hair: Black
3. Your mother: Caring.
4. Your father: kind.
5. Your favorite food: biriyani
6. Your dream last night: none
7. Your favorite drink: Hot-chocolate.
8. Your dream/goal: Secret ;)
9. What room are you in: Living room
10. Your hobby: Blogging.
11. Your fear: Darkness, reptiles, dogs, heavy lighting and thunder, sometimes strangers etc...the list goes on..
12. Where do you want to be in 6 years: UAE .
13. Where were you last night: Home.
14. Something you aren't: Hypocrite.
15. Muffins: chocolate chip Muffins.
16. Wish list item: Coco perfume By Chanel, but my husband hates the smell of it!!
17. Where did you grow up: Kerala/ UAE
18. Last thing you did: Had a glass of juice.
19. What are you wearing: A long Skirt and a T-shirt.
20. Your TV: Plasma.
21. Your pets: Would prefer if someone takes care of me...:)..No pets.
22. Your friends: Hubby, Mom, sisters, school and college friends.
23. Your life: Going with the wind.
24. Your mood: Happy.
25. Missing someone: My family in UAE.
26. Vehicle: It's a car.
27. Something you're not wearing: Jewellery.
28. Your favorite store: Marks and Spencer, Tesco.
29. Your favorite color: Keeps changing
30. When was the last time you laughed: Sometime today....don't remember
31. Last time you cried: Yesterday....My son really hurt his hand (pulled his elbow) and I couldn't bear it.
32. Your best friend: My Mom.
33. One place that I go over and over: Kitchen....
34. One person who emails me regularly: There are many actually...
35. Favorite place to eat: Home sweet home.


Also vidhas has passed a 'Giant Bear Hug' Award. Thank you so much Vidhas.