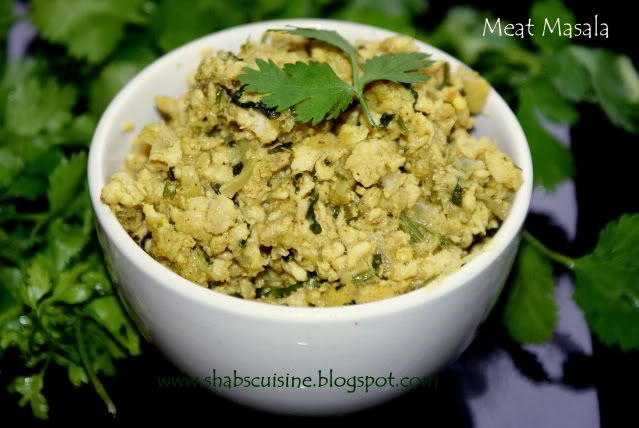 Ramadan Mubarak to you guys! This time I am dusting up one of my old recipe that was listed quite long back and relisting it with few updates and a better view of the picture. I usually make masala in a different way and wondered why I never got that authentic taste that we have at home. I had always thought adding so many spices brought that flavour. But to my surprise, I came to know it is the simple ingredients that gave elegant flavour to this meat masala, or stuffing. This is a typical Malabari type filling for samosas or Irachi Ada, puffs, Spring roll and many other snacks and you will find similar taste through out Malabar area. You can make many snacks using this masala. One of our faaaavorite snack is the
Bread roll
that I make using this filling. It's really great. I used chicken mince to masala this time. You can make the same masala with minced meat as well. Here is the updated version of the recipe.
The best part of making these masala is you can prepare them in bulk and divide them into several small freezer bags and pop them into the freezer for later use. Since this filling can also be prepared days ahead, I always have them in my freezer, so that I don't have to panic thinking of what to prepare when somebody comes home with quick notice. All you need to do is just take a small bag of masala out of freezer and defrost them thoroughly before use. Don't defrost and freeze many times as it really alters the taste. So it is better to divide the masala into many individual freezer bags and use as per need rather than defrosting the whole stuff all at once. This masala really lasts for weeks if frozen.
Sometimes, thinking of making the masala itself makes me a bit lazy. Making them requires quite lot of time and work. Lot of onion chopping, peeling and grating ginger and garlic, aah! So I never made them in small quantities. But again, using the processor makes the job very easy. Again, the best part is that, a huge number of snacks can be made by making masala in the below said quantity. These kinds of dishes are mainly made during Iftar and when there are parties or guests coming home. Snacks like samosas, cutlets, bread-roll, spring-roll, attippathiri,stuffed buns etc uses the same masala but all of these taste so different that nobody would even know that you prepared all the snacks using the same filling. You can even use it for making sandwiches. Once the masala is done, to finalise it into snack is very easy and requires less time.
Meat masala

Ingredients:
900 gm Minced meat
4 cups (3 1/2 medium sized) Onion, thinly sliced and then chopped
2 ½ " - 3"- Ginger, grated
10 -12 Cloves of garlic, grated
8-10 Crushed Green chilli
½ tsp Turmeric
1 tsp + 1/2 tsp Pepper powder
1/4 + 1/4 tsp garam masala
Salt – as reqd.
3-4 tbs- Oil
1 tsp - Lime juice
½ - 3/4 cup (loosely packed)- chopped coriander leaves
10 mint leaves chopped
Preparation

1. In a sauce pan Add 2 tbs oil and add minced chicken. Add 1 tsp pepper powder,1/4 tsp turmeric powder,¼ tsp garam masala and enough salt. Cook until the meat is tender and all water has dried up completely. (If using Minced lamb or beef. add half a cup of water and cook until the water is completely dries and meat is well cooked)
2. Slice the onion and chop them into even smaller size.* (see note)
3. Grate ginger, garlic and Green chillies.* (see note)
4. In a large non-stick sauce pan or frying pan add oil and set the heat to medium-high.** (see note)
5. Add the onion, grated ginger, garlic, green chillies and salt and sauté until onion becomes just translucent i.e. they have become soft and started turning pale. Don't brown them. If you see any moisture in the onions at this stage, just turn up the heat, and dry them out. Once the water has completely dried up,add ½ tsp of pepper powder and ¼ tsp of turmeric powder and sauté for few more seconds.
6. Add cooked minced meat and lime juice to this; mix well and simmer for about 5- 10 minutes on medium flame by covering the lid.
7. Add chopped coriander, mint leaves (if adding) and rest of the garam masala to this and stir well and cook for further couple of minutes until the leaves are wilted. Use as a filling for any snacks.
Notes:
* For slicing onions and chopping them you can use the food processor.
You can also add whole garlic cloves, ginger and chillies all together and process in the processor until well crushed.

** You have to be very careful at this stage because using large pans (I use 30 cm or 32 cm saucepans) and medium- high flame is very important thing to keep in mind. Since there are quite lot of onions in the recipe, using a small saucepan and low heat can tend to make the onions soaky and release so much moisture in the masala that it will turn out like curry or sauce .. Keep an eye so that the mixture doesn't stick to the pan as well.
Another important thing to note is that since you are adding salt to meat, add salt to onions carefully. I always add salt along with onions because they get cooked easily.Apart from using minced meat, u can also make the same masala with chicken pieces cooked in the same way by adding little water and then shredding it once it is completely cooked.