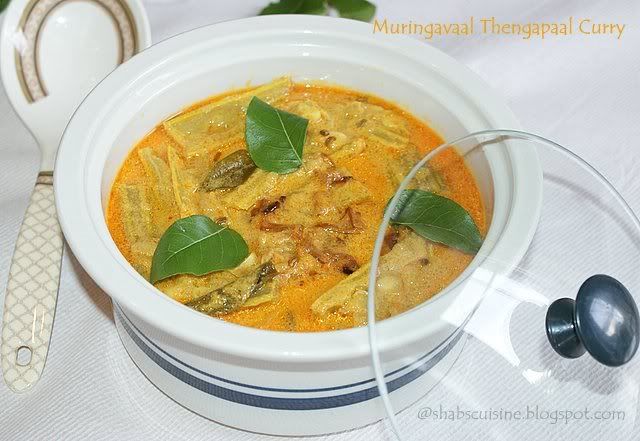 It's more than a week since I came from India and I am still in a lazy mood....lazy for everything....just got back to the normal routing after the jetlag, unpacking and cleaning the house which was left kinda messy when we left after all the packing......we had a real good time in India even though it was really really busy and hectic.....After all, that's expected when we have a 2-3 weeks vacation, especially back home when you have a bunch of relatives....visiting them itself takes a good chunk of time.....Before starting, I would like to thank all for the B'day wishes......we had so much of fun on that day....I used to check all the yummy blogs and posts and was regular in checking....commenting was a tough task to do since I used to check my mail through phone.....
The only thing I hated being in India this time was the weather.....I am not cursing the weather or I am not just boasting or showing off, but it was Hot........I thought I felt so cos if I went the from the cold weather here.....But even the people out there told it was terribly hot... It was supposed to rain during October, but the weather was dry with heat, no wind and no signs of rain even..... I badly wanted to feel the rain back home, but it only started raining while we were on our way back which only delayed our journey....:(
My son very much enjoyed being in India even though his food habits and sleeping routine had become worse!.....He was always outdoors playing with his ever favourite toy- 'The sand'...I think he was seeing the sand for the first time.....he would never get in whet ever we try to entertain him with....the worst part is, he plays and even baths in sand,....he puts them all over his head and then washing the sand off the hair is a tedious thing to do.....and of course, he has several baths a day.....The worst part of his sand story was once when we visited few of my husband's relatives, my son saw a small mound of sand in one of the houses which was newly built and some part of the house was still being done....he started climbing on that and running up and down and up and down...........his shoes filled with sand and sand all over his body, face and hair....and on top of that he kept scattering the sand all over so that I won't be able to take him or even go near him.......I just went crazy not being able to manage him......finally called my hubby for help, we just dusted him off the sand and dragged him to the next house and locked him in... (this is the second house and three more to go)....he started screaming since he dint want to come off the sand.....the guy at the house opened the door let him out...and he ran off to the first house and started playing with the sand again.....we then left him there to play with some kids and went to visit the rest of the families.....I can't imagine how many times I had to wash his hair to get rid off the sand......
Anyways, coming to the recipe, It is a recipe that I made quite long time back and it was sitting in my drafts for sometime....Just dusted it off and thought of clearing it from my drafts.....I have followed Lashmi Nair's recipe of Okra curry for this one with minor changes to suit the vegetable....In her recipe, Okras were fried and added....here you go one of the simplest vegetable curries from my kitchen......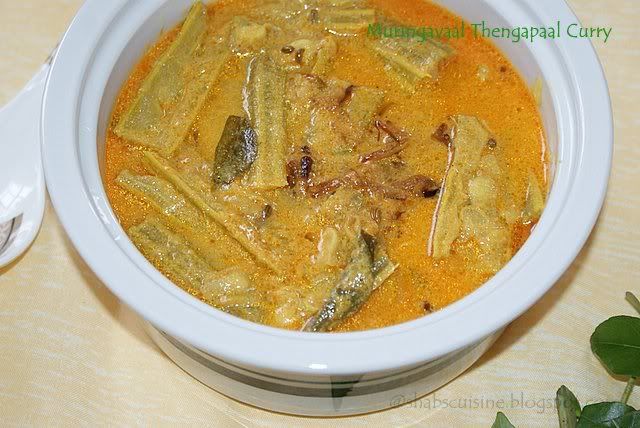 Ingredients:

3 large (350 g)Drumsticks (cleaned and cut into 2" pieces and slit)
1 Tbsp coconut oil
2 twig curry leaves
½ cup onion, chopped
3 green chillies,slit lengthwise
1 tsp coriander powder
1 tsp Kashmiri Chilli powder
½ tsp turmeric powder
2- 2 ½ thin coconut milk
1 cup thick coconut milk
Salt - to taste
For tempering:

1-2 Tbs Coconut oil
1 Tbs chopped shallot/onion
¼ tsp Fennel seeds
Preparation:
1.Heat a saucepan. Add a Tablespoon of oil and add curry leaves, onion and green chillies. Sauté until the onions are soft.
2. Add the spice powders and sauté for few seconds. Add the thin coconut milk, salt and drumstick. Stir well. Cover and cook till done. When the drumstick is cooked well and the gravy is thick, add the thick coconut milk and just boil once.
3. Heat another small kadai/wok, heat oil and add fennel seeds and shallots. When shallots start turning golden, add the tempered oil along with the onions to the above curry. Instead of adding the curry leaves in the beginning it can be added at the end while tempering. Best served with rice rotis like pathiris,
Ottil pollichathu
,
Neeru dosa
etc.