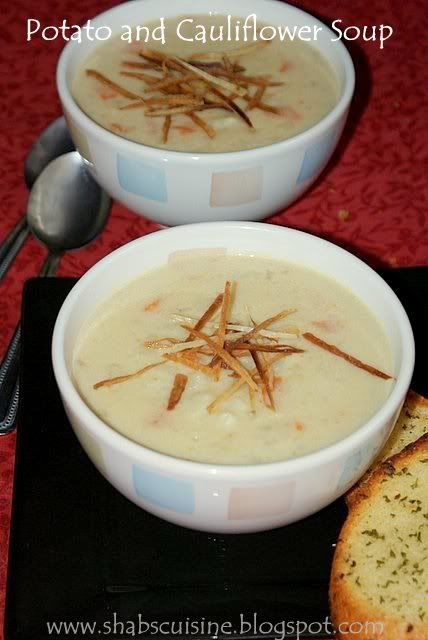 Potato and Cauliflower Soup with Cheese
Serves 4 (1 cup each).
Soups are always a healthy alternative to fat filled snacks or any other dinner/lunch platter which contain enormous amount of oil/clarified butter etc. Recently I have been trying to reduce the use of saturated fats and other oils after an alarming discovery of the calories that is present in a Tablespoon of fat, be it an olive oil or sunflower oil. I am not sure about butter, coconut oil and clarified butter, but I guess it should be much more than the others mentioned. Yeah, Can you believe that a tablespoon of vegetable oil has 135 Kcal?!!!I read it on the label on the bottle.... So I am trying to cut down the amount of oil in my recipe, you may use more as you wish. But, the foods that contain more oil, is quite tasty if you agree, and I always had an affinity to add more oil.... I always think, why do all or almost all tasty food should be unhealthy or High in calories?!
So, on such a day when I was browsing for some healthy recipe, I came across this stunning soup at
Saju
's blog. Her recipe was 'Cauliflower and broccoli soup'. I badly wanted to have the soup ago, but dint have broccoli to start with. Hence I substituted broccoli for potato, the one vegetable that I always have in stock and made it. It was really tasty and a filling soup. Thanks to
Saju
for such a delicious recipe. We had it for afternoon tea along with French Baguette and had the rest at night a swell. I dint find much of a difference in taste when I had it at night, but it was really good at noon.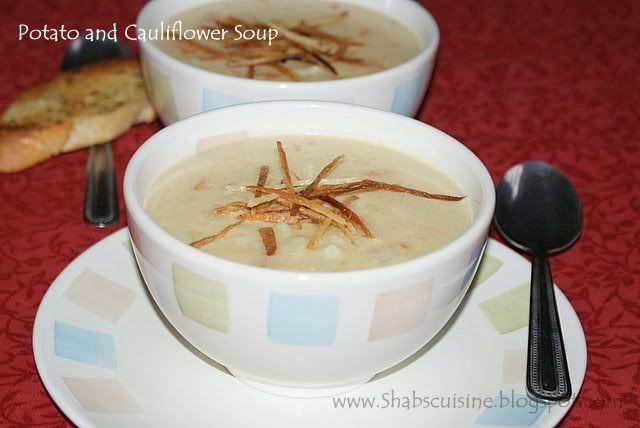 I have modified the recipe a bit and here goes my version. I have added little cheese - I just couldn't hold my temptation, so added it to give a light cheesy taste. Also added water along with milk, you can use complete milk rather than adding water. The soup was very refreshing and filling. It tasted really yum with garlic bread and baguette.

Ingredients:
1 ½ cup (200g) chopped cauliflower florets
1 cup (170g) potato cut into small cubes
½ cup (80g) thinly sliced carrot
½ cup (70g) chopped onion
¼ cup (4 Tbsp, 25g) grated cheddar cheese (optional)
1 ¾ cup semi skimmed milk
1 ¼ cup water
1 maggi stock cube crumbled (chicken or vegetable)
3 Tbsp plain flour
1 Tbsp vegetable oil


Preparation :
1.Heat a saucepan, add oil. Add all the vegetables and sauté for 5 minutes. Add water, milk (leaving behind little milk to mix the flour) and stock cube and cook till vegetables are cooked well and is soft.

2. Mix the flour with little milk and add the milk to the vegetables. Let it boil for few minutes until thick. Don't add the flour directly to soup without mixing it with milk since it becomes lumpy!

3. Add the grated cheddar and mix well until just melted. Season with pepper and serve hot.
4. Serve hot with any baguette or garlic bread.

(Salt was not added since there was adequate amount of salt in the stock cube. You may reduce the amount of stock cube in the beginning, if necessary, and add them later to adjust the salt level.)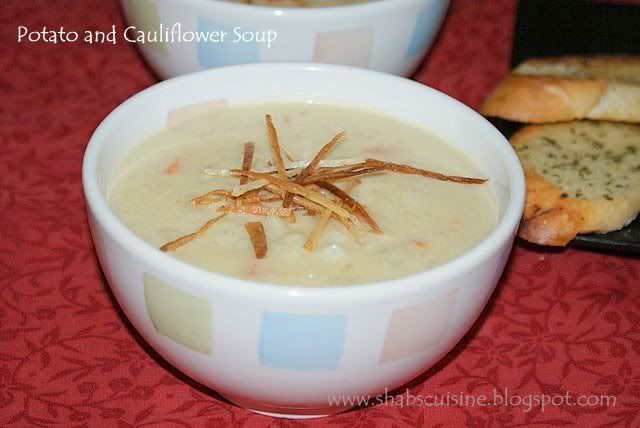 This post is my entry for the
'Monthly Mingle-Soups'
organized by
Meeta
, author of one of the most stylish blogs around- "
What's for lunch, Honey?
". The event is hosted by yet another lovely blogger - Harini of
Tongue Ticklers
.