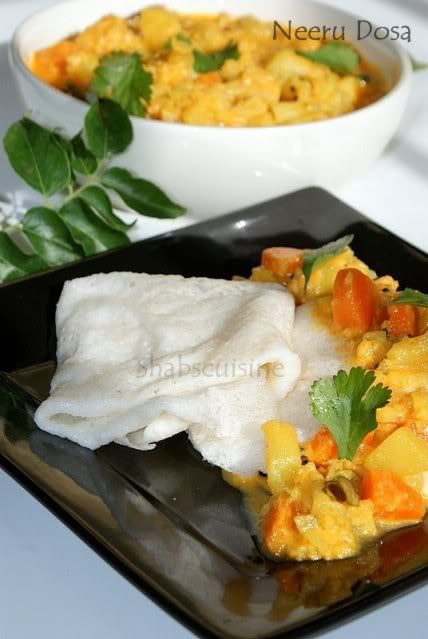 Few days back, I was all set to make Ottil pollichathu for dinner. Made some mixed vegetable curry first to go with it and had soaked some rice the previous night to make Ottil pollichathu. When I was about to make the batter, I noticed that there was no cooked rice in the fridge which I guessed there was! I have to do something to use up the soaked rice, and dint feel like cooking rice for this Ottil pollichathu, After all I make these to reduce my work...Thinking of what to cook, these Neeru Dosas from the Gulf News Cookery Book sparked in my brain. I have the habit of skimming through my recipe books very often and almost all the recipes have become quite familiar to me. Grabbed the book just praying there should not be any cooked rice and there you go - no cooked rice in Neeru Dosa. I was a bit worried to try these since it had no cooked rice and thought it would turn out hard. But it was softer than the normal Ottil pollichathuthat I make and is even easier.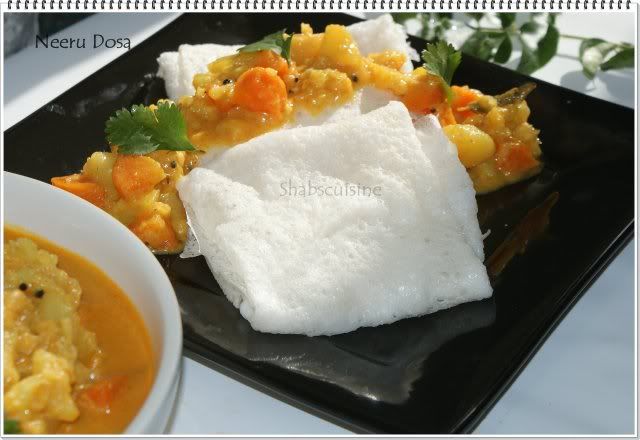 Unlike
Ottil pollichathu
, Neeru Dosa has lot of freshly grated coconut in it which gave a lovely flavour and aroma to this Dosa. The batter was very thin and you need to swirl the pan rather than spreading the dosa with a spoon. These paper-thin dosas are served as an integral part of a curry dish with gravy. It was wonderfully soft and could go with most of vegetable curries and non-veg curries. But as u can see in most of my rice based dishes/pancakes I have used onion for a distinct flavour. A very small piece of onion gives a wonderful taste and we love it. The taste of onion doesn't stand out there, but gives a beautiful flavour and a mild aroma.... Since I was making this dish for the first time, I din't go for any experiment. I wanted to taste it the authentic way. But next time I make it, I will try adding a small piece of onion while grinding the batter. You may try it that way too.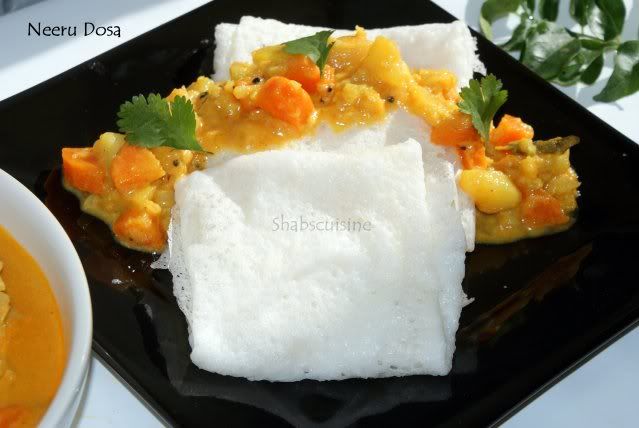 We eat these kinds of dosa for breakfasts along with some vegetable curry and for dinner along with some non-veg curry. You can also make these dosas for dinner with vegetable curry, but for a strict non-veg like us, a fried piece of fish/fried Prawns/egg Omelet are some of the side dishes that I make while I make vegetable curry for dinner!!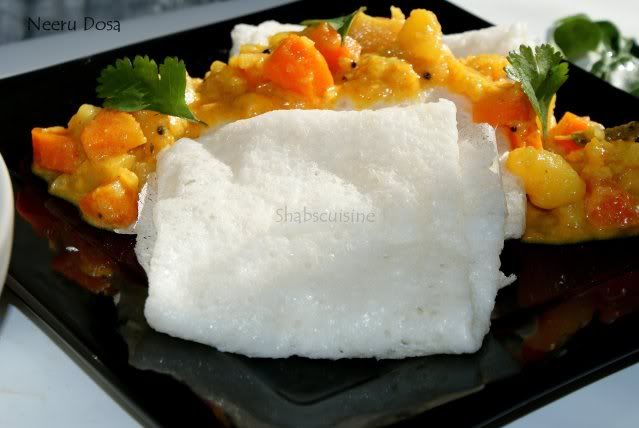 Neeru Dosa: (Serves 6)
Recip Courtesy: Gulf News Cookery Book
Ingredients:

400 g/2 cups long grain rice (Pachari)
200g/2 cups grated coconut
1200 mls water
1 tsp salt or as required
Preparation:
1.Soak the rice for about 2 hours and grind it to fine paste, to make a pouring consistency using water. When the rice is well ground without any grainy feeling, add coconut and grind it well again until smooth or almost smooth.
2. To cook the dosa: In a non-stick pan, pour a ladleful of the batter and tilt the pan to form a thin even layer. Cook for just couple of minutes until the edges form crispy and starts to leave the sides. Since the dosa is paper thin, you don't have to flip it over. Just cooking one side will do. Take it off without breaking using a flexible spatula. Repeat with all the batter and serve with any vegetarian, non-vegetarian or seafood curry. Here are few of the combinations for neeru dosa:
Green peas Curry in Coconut milk
Chemmeen Muringavaal curry
Malabar fish curry
Chemmeen Varattiyathu
King Prawn and Okra Curry
Chicken Chettinadu
Notes:
This is the doubled amount than mentioned in the original recipe.