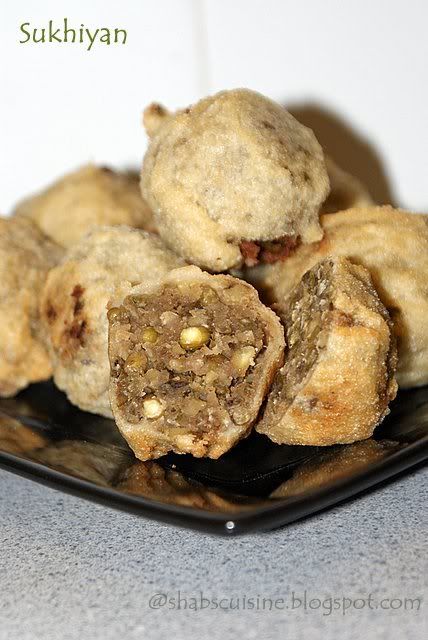 Sukhiyan is one of the famous evening snacks made in kerala...It is a snack made of moog dal, jaggery and coconut filling and then coated with a plain flour batter and then deep fried....you can find this snack mostly in 'Thattukada's or the street side small food shops that serve parcels of food...Even though I never had food from 'Thattukadas' I was very much fondly told by many including my husband that the food served in 'thattukadas' are damn tasty. Here I have added little spice powders to give it an extra aroma, you may add more.
Ingredients:


For the filling:



1cup/250 g Green grams/moong dal/Cherupayar
1¾ round blocks of jaggery in the shape of coconut shell (300g)
1cup water
1 -1 ½ cup grated coconut
a pinch of salt
¼ tsp dry ginger powder/ chukku podi
¼ tsp cumin powder
½ tsp cardamom powder.
For the coating:

1 cup plain flour/ maida
1 cup and a couple of tablespoons of water to make batter
A good pinch of salt.
Preparation
:
1. Melt jaggery by placing it in a saucepan along with one cup of water. When it is completely melted, sieve it several times in a muslin cloth or a cotton cloth to get rid of the impurities.
2. Wash the grams, and cook till soft, but not mushy. I pressure cooked them with sufficient water. Drain off any water left using a seive.

3. Heat a saucepan, add the melted, cleaned jaggery and add coconut. Stir well and cook until the water is almost evaporated. Mix the cooked grams and keep on low flame, mix well and cook till all the water is evaporated. Add all the spice powders and mix well. Let it cool down a bit. Roll the filling into lemon sized balls. Make sure the mixture is not watery and it is able to make into balls.

4. Mix plain flour and water by adding a pinch of salt to make a thick batter. Dip the balls of filling in this batter and deep fry in oil for couple of minutes until the coating is cooked and starts to turn golden.

Notes:
Adjust the sweetness as per taste. I think normally sukhiyan is slightly less sweeter than mentioned here.. But if you want it sweeter than mentioned, add a couple of table spoons of sugar and mix well in the filling. This can be made once the filling is completed as well.