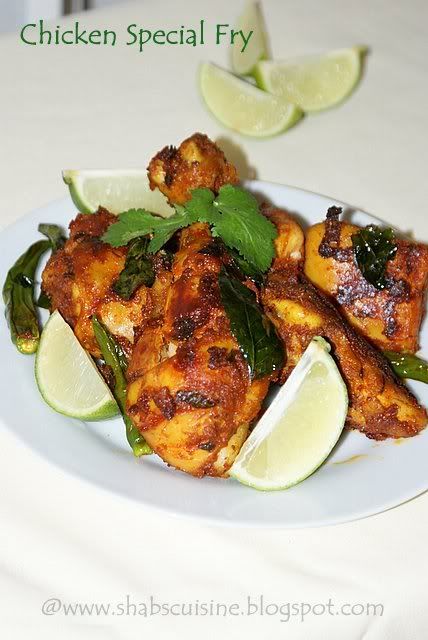 Ever since my friend handed over this recipe to me, this has been a regular visitor on our table. Be it a lunch or dinner...this dish is very much enjoyed by my family and we simply love it. The best part is that the chicken can be fried without adding any oil and it tastes as good as the fried ones. You can't notice any difference at all. If you are a health freak and love good food, you will love this version. These days, I don't add any oil while preparing this dish, since it tastes finger-licking good even without oil. So why bother add some unwanted fat when it doesn't make any difference at all?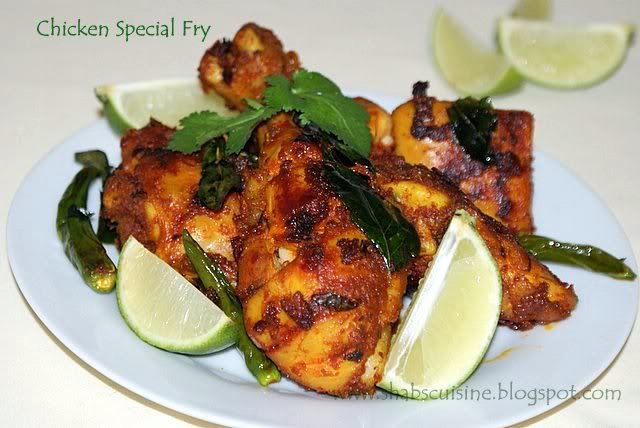 Ingredients:
500g-600 g Chicken pieces
4 large cloves of garlic thinly sliced and chopped (1 ½ tbs)
1" piece ginger , thinly sliced and chopped (3/4 - 1 tbsp)
30 curry leaves (2 twigs), chopped
2 tsp Kashmiri Chilli powder
½ tsp Turmeric powder
1 tsp salt or as required
¾ - 1 cup water
Oil- as required (Please read the instructions)
2-3 green chillies (optional)
1 twig curry leaves (optional)
Preparation:
1.Wash chicken, and pat dry. Marinate it with ginger, garlic, chilli powder, turmeric powder, curry leaves and salt for a minimum of 2 hours or overnight. If the pieces are big like leg, thigh or even breast, make 2-4 shallow slits on the meat so that the marinade can permeate through.
2. Heat a saucepan, add chicken along with enough water; cover and cook until the meat is tender. Open the lid, increase the flame and dry up almost all the water. At this point, you can see that the oil has cleared from the chicken.
3. After this, the frying process can be done in two ways as given below.
3.a) When all the water dries up and the oil clears, turn down the heat to low-medium and add 2-3 green chillies and a twig of curry leaves. Fry until the chicken is evenly browned by flipping them frequently. This is the healthier way of frying it without using oil.
Else:
3.b. Heat another frying pan, add 2-4 Tbs of oil, add 2 green chillies and a twig of curry leaves. Add the cooked chicken along with the juices and fry till brown.
Note:
Adding chillies and green chillies at the end are purely optional. You may omit them. The dish is good even without adding them. I just love the flavour of green chillies and curry leaves, so added a bit more.