What happens when you have a local farmers market nearby where you get fruits and vegetables at a very low cost?.....There will be more fruits and vegetables at home than required, and sometimes aiming to the bin! That's what happened quite a few times at my home recently. The farmers market nearby is a whole sale market where we get loads of stuffs as cheap as chips.....Recently I had asked my HD to get some Bananas along with other stuffs and he bought more than dozen bananas! I am not much of a banana fan; I eat it once in a while but not so frequently to finish them all....So I had to think of options of how to use up the bananas without wasting any.....I used them in fruit salads, cornflakes, prepared some pancakes, drop scones and sometimes had them for breakfast!....I was still left with a few bananas which started developing black spots on them.....Then the thought of banana bread that recently appeared on many blogs struck me! Yes, I am Baking it........The Banana Bread, something that I was longing to try.... I then started googling for the recipe....googled and googled and got confused which one to follow since there were numerous amount of recipes........I wrote down many recipes, added and subtracted ingredients to my liking and finally referred www.Joyofbaking.com for the final recipe to see what I wrote down was almost the same.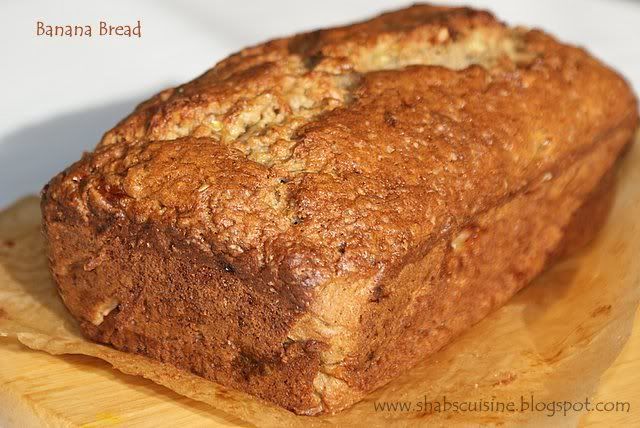 I fell in love with banana flavoured cakes during my college days where I used to have banana muffins for breakfast. But after making the banana bread, I realised that the one I had in college just had the banana essence and dint have any banana in it. The recipe for Banan bread given here is very simple to follow and can be modified to suit your personal taste – you can omit the nuts if you don't prefer them, or add more nuts, omit the cinnamon and add the spice of your choice, or omit it completely..... In this recipe I have used cinnamon powder and for nuts I used Brazil nuts even thethe original recipe calls for walnuts.. There is a story behind the using of Brazil nuts. There were only just enough amount of walnuts for baking. Lucky me, thought myself. Got all ready for baking, heated the oven, placed the walnuts on the sheet and popped it in the oven...When I was setting off with the other ingredients, came a phone call!! Guess who it was....Oh, not a surprise and not a minister...It was just my sis. But why do I have to mention it here?.....My sister, I don't know how she does it, but always calls me at the worst possible hour......while I am sleeping early in the morning, or at midnight, or I am busy with something and running around like a headless chicken .........The phone kept ringing......I picked the phone and we started talking (The oven is still ON with walnuts in)....the talking went on for sometime until I sniffed a charred smell and made me think 'Hey, what's that funny smell all of a sudden?'......'Oops my walnuts'.....I dropped the phone and ran to the kitchen, and opened the oven, just to find my only walnuts turn into charcoal and smoke all over....So I had to find some substitute for the walnuts and used ended up using brazil nuts.... To be frank, even though brazil nuts are one of my favourites, I thought it just din't click in this recipe...I thought the walnuts would give it the best crunchy bite... And for the cinnamon, I have been having too much of cinnamony stuffs, that I got bored of the taste. I am looking forward to baking banana bread again, but making sure I omit the nuts and cinnamon and add a tad more of vanilla extract.
The Bread, or rather a cake, was moist and had a true Banana flavour with a hint of cinnamon. It was deliciously crispy as soon it came out of the oven, but later on got moist, but yummy. The cake was quite dense cake and we loved it with tea. I tried toasting the slice of bread and drizzled with honey....It was great that way too...Well, while you choose the banana, go for the one that is really ripe, because the flavour of the banana intensifies as the banana ripens. My husband thought they were sweet enough for him, but I thought it was slightly less sweet for my taste. I would try adding a cup of sugar next time than ¾ cup. For checking the doneness, poke the bread at different place using a skewer. Since there is lot of banana in the bread, it will stick to the skewer and give a false idea
Banana Bread
Recipe adapted from: www.joyofbaking.comIngredients:
½ cup chopped nuts of your choice, preferably Walnuts or pecans
1 ¾ cup (250g) all purpose flour
¾ cup – 1 cup granulated sugar
1 tsp cinnamon powder
1 tsp Baking powder
¼ tsp baking soda
¼ tsp salt
½ cup (113 g) butter
450g banana, mashed (1 ½ cups), 4 Large ones
2 large eggs, lightly beaten with whisk
1 tsp vanilla extract/essence
Preparation: Courtesy of www.Joyofbaking.com
1. Preheat oven to 350 degrees F (180 degrees C) and place oven rack to middle position. Cover the base and the longer side of a 1 kg loaf pan with a baking paper. Set aside.
2. Place the nuts on a baking sheet and bake for about 8 to 10 minutes or until lightly toasted. Let cool and then chop coarsely.
3. In a large bowl combine the flour, sugar, baking powder, baking soda, salt, cinnamon, and nuts. Set aside.
4. In a medium-sized bowl combine the mashed bananas, eggs, melted butter, and vanilla. With a rubber spatula or wooden spoon, lightly fold the wet ingredients (banana mixture) into the dry ingredients just until combined and the batter is thick and chunky. (The important thing is not to over mix the batter. You do not want it smooth. Over mixing the batter will yield tough, rubbery bread). Scrape batter into prepared pan. Bake until bread is golden brown and a toothpick inserted in the center comes out clean, about 55 to 60 minutes (It took me 1 hour and 10 minutes). Place on a wire rack to cool and then remove the bread from the pan. Serve warm or at room temperature. This bread can be frozen.