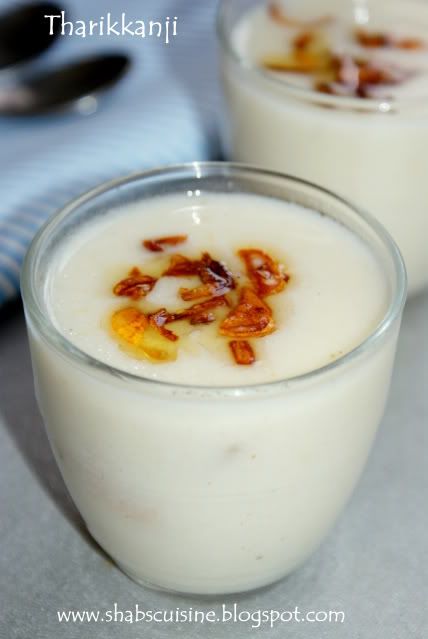 Ramadan is almost here, and Thari kanji is one of the most regular drinks made at home during Iftar. It is not a regular Kanji that is made of rice and tastes bland and that needs some accompaniments to go with it. It is a refreshing and filling drink made while breaking the fast during Ramadan. This can be made as a savoury drink by omitting the sugar, and by just adding enough salt or a sweet drink by adding sugar and a pinch of salt. I always liked the one with sugar. The traditional taste of tharikkanji comes from the addition of sauteed onions, cashews and Raisins. But if you do not like the taste of sauteed onions, please omit it. It is made in a drinking consistency and is served in glasses. I Made it today, and thought I would put it up here in case somebody needs the recipe beforehand. Thari Kkanji is also known as Thari kaachiyathu in our place.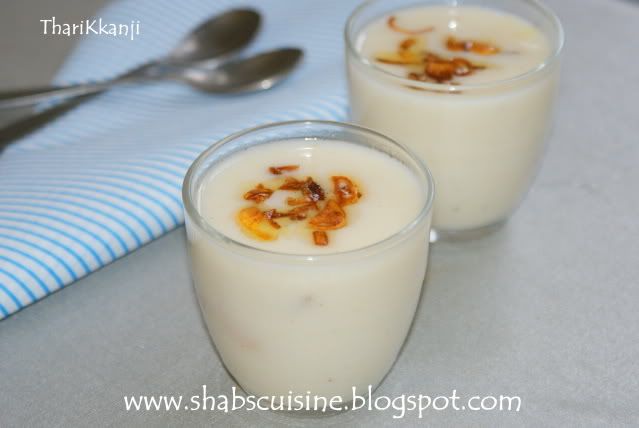 Before going into the recipe, Here comes Scrumptious blog award from my blogger Friend faiza . Thanks faiza. You are really sweet.
It is the Scrumptious Blog Award -a blog award given to sites who:
Inspire you
Encourage you
May give Fabulous information
A great read
Has Scrumptious recipes
Any other reasons you can think of that make them Scrumptious!











The rules are:

Put the logo on your blog or post.
Nominate at least 7 blogs
Let them know that they have received this Scrumptious award by commenting on their blog. (
I face some problem while commenting on many sites, So if you see this award nominated to you please accept it!
)
Share the love and link to this post and to the person you received your award from.I would like to pass this award to my following blogger friends:
Pooja
Sarah Naveen
Superchef
Parita
vidhas
Divya Kudua
Varsha Vipins
Now for the recipe:
Ingredients
:
1/4 cup (4 tbs) Semolina
4 - 5 tbs sugar
1/4 teaspoon salt
2 cups Thin coconut milk
1 cup thick coconut milk
1 teaspoonful Ghee (can use 2 tsp if preferred)
1 tbs Cashew nuts
1 tbs raisins
1 tbs -2 tbs Sliced Shallot
1/2 tsp cardamom Powder or 3-4 cardamom pods crushed
Preparation
:
1. In a saucepan, add semolina, sugar, salt and thin coconut milk and stir well. Keep it on a medium flame stirring continuously and bring to boil. Reduce the flame and keep it simmering for 5 minutes until semolina is cooked well and the mixture is slightly thick. Keep it aside.
2. Heat a small kadai and add ghee. Add the sliced shallots and cashews and fry them until they turn brown. Add raisins and let them puff up. Remove this tempered oil and add it to the above Thari Kanji and stir well.
Notes:
1. If you make Tharikkanji using the above measurement , you will get slightly thick, but in drinking consistency and it is normally had in glasses. If you want it more thick, Add 1 tbs more of semolina.
2. Regular full fat milk can be substituted instead of coconut milk. Or you can use 2 1/2 cups of full fat milk/semi skimmed milk and 3/4 cup thick coconut milk. Anyways it is delicious. It is just how you prefer to have it.
3. Keep stirring the mixture all the time while cooking to avoid lumps and semolina sticking to the pan.