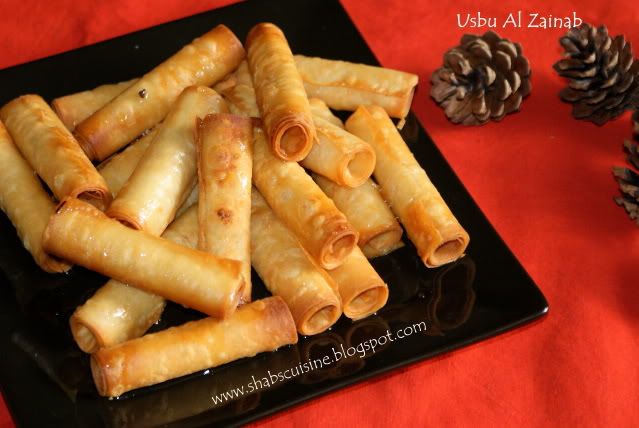 Before going to the recipe and my blah-blah, I would like to Thank Mr. Pratheesh for giving me a wonderful opportunity to include my little blog here and a couple of my recipes in his recently published article in a Malayalam magazine called '
Snehitha
'. Mr. Pratheesh is the presenter of the cookery show 'Taste Time' that appears in Surya TV and a Serial artist. You can find many of his program episodes in youtube. His article was based on the cookery blog sites which comprises few other blogs including mine. You can find few details online as well. It is the latest Onam edition. I am sad I don't get to buy the magazine here, but have asked my relatives to get a bunch for me:). I also would like to thank my sweet friend
Dhanya
for letting me know about this. Thanks to you both. I also thank my family, my friends and all my readers for giving me lot of inspiration and encouragement.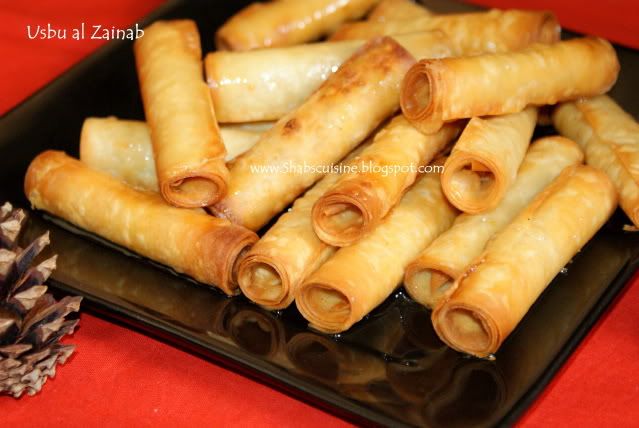 I am reposting this old post of mine with new snaps. Since it is Ramadan it would be a reminder as well, if anyone's wants to try it out. I believe food should be presented well enough to be appealing to the eyes as well as mouth. As I was unhappy with the old pictures of Usbu al Zainab, I thought I would replace them and repost them again.
Coming to the recipe, Usbu al zainab is a common evening snack made especially during Ramadan. I learned it from my Arab friends back in hostel and this snack always takes my memory back to the hostel days and the time I spent there. The food prepared in the hostel mess wasn't very good everytime, so we always prepared our own food in our flat. And Ramadan was the only time when such snacks were made. Usbu al zainab is a crispy cheese roll made with tiny bits of cheese rolled in samosa pastry then deep fried in oil and served with sugar syrup. Since I loved the recipe so much, I started making it at home when I used to be with parents, addicting everyone to this snack.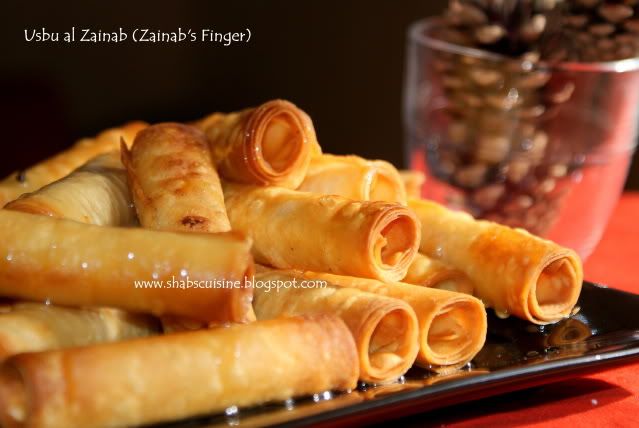 Now, this has become one of the regular snacks made during iftar here as well. It is easy to make and tastes really amazing. You won't imagine (even I din't initially) such a simple snack could really work magic. I have been trying to avoid all the fried snacks during Ramadan. But I made this one few days back, because my husband has been reminding me of this snack quite a few times. So made quite a huge pile of it, and it got over in a matter of no time!!! Not only my husband, but also my little one was hogging on it like crazy..Then I realised that it was the first time my little one was having this. During the last Ramadan he was too young to eat something as crispy as Usbu al zainab. And this time I made it, he kept on munching on it and was all smeared in sugar syrup. Somehow I got to capture some shots by engaging him with something else, still you could see him picking from the stack, as always! I don't know if it happens to everyone with little kids, that when ever you set up a platter to capture a picture, your little one wants to grab something from it and only it! It aaaaaaaaallllllllways happens here and sometimes, I just give up without taking snaps and waiting for another chance!!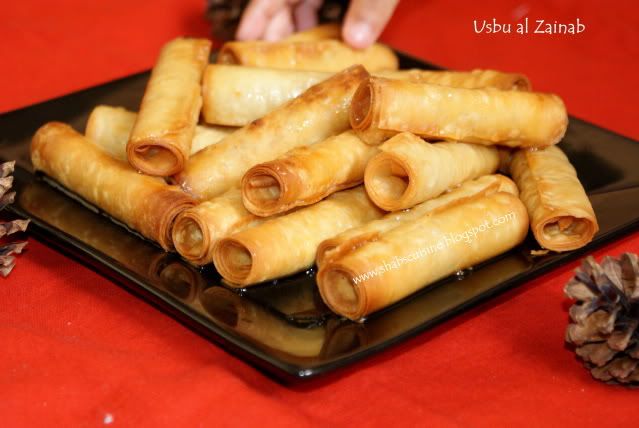 N.B: The measurement given here are just appropriate, u may make more or less, use more cheese or less or no cheese at all, and all tastes great. I always used triangle cheese, but u may substitute with any other cream cheese.
Ingredients :
Rectangular samosa pastry - around 24 pieces (thawed)
cheese triangles – 4
For sealing the pastry:
plain flour - 2 tbs
water – 4-5 Tbs
For syrup:
Sugar - 1/3 cup
water - 1/3 cup
cardamom - 3 nos.
lime/lemon juice - 1 tbs
Oil - for deep frying the rolls
Preparation:
1. For preparing the sealing, mix well the flour and water until u get a thick paste. This mixture is used to seal the edges of the pastry after rolling. Keep them aside.
2. Place a small piece of cheese in the tip of the short end, leaving a cm form the egde. Follow picture instructions.
3. Seal the cheese completely by folding the edges. Then roll the pastry until the edge. When it reaches the end, spread a very thin coating of the flour and water mix to the tip of the pastry and seal the edges. With one cheese triangle you should be able to make around 6-7 rolls. Repeat the same process with all the samosa pastry sheets.
4. Fill a frying pan half way with oil and set the flame to medium. Put few rolls at a time. when it turns golden on one side, turn it over until other side also turns golden. At this stage, sometimes, if the cheese is not completely covered in, the cheese inside will start to melt and ooze out in the oil. This will start crackling and oil will start spluttering a bit. So be careful to use long handed spoon or tongs for this. And as soon as this happens, remove the rolls from the oil and place them on kitchen towel to drain extra oil. NEVER USE A SPOON WITH SMALL HANDLE.
5. Preparing syrup: Heat a saucepan and add water and sugar. Let it simmer gently for about 10 minutes until thick and syrupy. DON'T stir the mixture using spoon, just swirl the pan, incase necessary. Add crushed cardamom and lemon/lime juice, boil for a minute turn the flame off. Set aside to cool.
6. Serve the rolls on a serving plate and sprinkle the syrup all over. The rolls remain crispy for very very long time even after pouring the syrup over!! I dont know how.
N.B. You can prepare as many number you want, and If you want to avoid cheese, that works very well too. Last time when I made these, I ran out of cheese for the last couple of samosa pastry and I just made them without cheese. And they were equally yummy. SO you may try out that way as well.